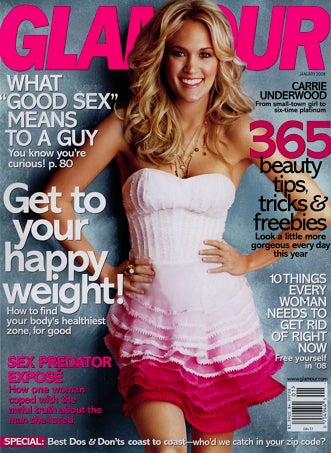 Next month's Glamour has a story sure to make you feel better about being single! It's about a privileged upper-crust British guy who can't make his wife come anymore. Aren't you glad women's magazines exist to give people like this an excuse to turn their relationships into lab experiments? Anyway, so he decides to have sex with his wife every night until she finally has an orgasm. And it only takes 22 days!
JAN. 1

FOREPLAY:

1 hour

SEX:

1 min.
I massaged Jane with body oil. It took a long time for her to become aroused, but after an hour she begged me to make love to her. I held out as long as possible because I was terribly affraid of wht was going to happen next. I felt as if I were about to explode every time she touched me. And as soon as we actually started having sex, I did. Explode, that is.
So, uh, who is this guy I just decided not to call a "Lothario," because, you know, too easy?
He's anonymous.
I come from a stodgy, old-fashioned family. To write about the details of one's personal life would be in unforgivably bad taste; to write about the details of one's erotic life would get one run out of the pride.
Ha ha, pride. Interesting word choice, guy! Anyway by February 17 she's pregnant and now they have a kid. Anyone know if the eminently discreet and (averse to writing about his personal life) Sykes brother had a kid recently? Just askin!