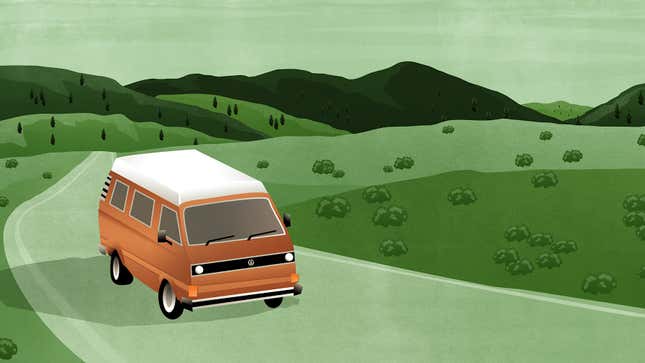 It happened every time we stopped for gas. Someone would approach, usually someone kind of old. "Great van," they'd say. "What is it… an '80, '81?"

Betsy Wolfe Reveals the 'Most Embarrassing Thing That's Ever Happened' to Her on Stage
"Yep, '81."
"Original interior?"
Sometimes we'd slide open the heavy side door to let them have a look inside at the tan cabinetry and sensible stow-away compartments. What they'd find wasn't what you'd call photo-ready. Two carseats, a cardboard box full of cans of chili and bags of noodles, trail mix and Cheerios, our family's signature Legos-Cheerios melange in most nooks and crannies, copious baby wipes, children's outerwear draped over the surfaces, plastic shopping bags of fruit and veg hung from the clever little pegs behind the front seats.
This past January, my husband and two young sons and I spent a week road-tripping around New Mexico and West Texas in my father-in-law's 1981 VW Westfalia, christened "The Fillmore" a few years ago by my older son. (It is named after the van character voiced by George Carlin in the movie Cars, in case you're wondering.) The trip was extremely fun. But it was also challenging, physically and emotionally—as many endeavors that look adorable on the outside but are taxing on the inside tend to be.
I learned that people love the sight of a family road tripping in an old van. We got repeated props at every campground and RV park we stayed in. Our trip was also a hit on social media, and not just among my friends. The #vanlife hashtag will introduce you to a world of rad customized vans inhabited by what appear to be mostly fit, beautiful people, many of whom seem to do a lot of yoga and surfing right next to where they park their vans. But #vanlife with a two- and five-year old is not all steaming mugs of Aeropress coffee at dawn, nor is it late afternoon light slanting through the open back door over a freshly cracked novel. Here are a few of the nugs of wisdom acquired on my van trip.
Finding Company
It's freezing cold at night in the desert, so we stayed in RV parks with electric hookups until we got far enough South to be able to handle the nights without a space-heater. Each time we pulled into an RV park, I felt a bit like Borat put-putting along in a jam-packed Yugo: "Hello everybody! We are here in our van!" Beside a row of gleaming RVs, DirecTV dishes deployed and Venetian blinds angled just so behind the tinted windows, The Fill was so abbreviated. Friendly RV people would come and say hi and admire the van and the kids, and there was always a part of me that wanted to see what would happen if I asked if we could come watch TV in their rig for a bit. You love this van, I'd think, but you wouldn't want to travel in one.
Food and Beverages
VW campers have little kitchens that are so beautifully functional, but it's not like cooking at home. It's still a hot dog situation, or chili from a can. It's not like you're in there mashing up garlic for your zesty from-scratch sauce. Granted, there's plenty you can do between a picnic table and a tiny stovetop, but leave that to the #vanlife people don't have kids in the #van. Luckily, kids love camping food, so there's really no trick to this beyond chilling with your high standards.
Booze-wise, you will definitely want some, unless you don't drink. Don't bother with beer because it won't stay cold, and wine is too bulky. We enjoyed a dinnertime marg most nights, and it was a delight. All you need is a little bottle of tequila, a bag of limes, and a squeeze-bottle of honey. Hand-squeeze your limes into an empty, lidded container of some sort, add the other stuff and some water to stretch it out, shake well and serve. No ice needed. Tastes great, but be warned, all that lime squeezing will make you wary of sharing. One evening our kids were playing with a boy from a neighboring RV and his dad was lingering in our zone, making small talk with my husband while I sat cross-legged on the van floor, slaving over those fresh limes. My husband popped his head in, and I asked if he deemed neighbour-dad worthy of a marg himself. He looked over at this friendly dude, who was animatedly telling our kids about the local wildlife, narrowed his eyes and said, "He's nice, but he's not that nice."
Health and Beauty
Needless to say the entire hygiene situation is one we tried not to think about too hard. It helps that I was raised on a commune whose facilities in those days my mother once likened to "nineteenth-century Poland." The best possible advice I could give is to not be like us, and wait until all of your children are toilet-trained before taking a van trip. Hand sanitizer is comforting but sometimes I wished it had mildly abrasive qualities, too.
Entertainment
For reasons that, trust me, you definitely do not feel like reading about, our kids don't have an iPad. We brought a few toys—Lego, markers, little cars—but most of the entertainment came from being outside. We tried not to drive for more than five hours in one day, and organized most days around a hike, so that by evening everyone would be tired out and we'd sleep well. Hiking with little kids is a whole other article, and it can be summed up with the word "chocolate." My five-year old is a champion who hiked five miles and made me very proud, but he wouldn't have done it if we hadn't used chocolate to motivate him through the rough patches. Pack more than you think you'll need.
We mostly hiked in Big Bend National Park, which is wonderful and huge and forms part of Texas' border with Mexico. Throughout the trip we saw tons of evidence of the massive cross-border migration of undocumented people, and we were stopped at checkpoints at least 10 times ourselves. We took one hike that was probably ill-advised, along a trail with zero shade that went straight out into the desert for many miles. It occurred to us, as the kids became justifiably hot and whiny, that what we were doing for "pleasure" was a lot like what many migrants endure at enormous personal risk in order to enter the U.S.
There's a lot of packing and unpacking on a VW van trip, because you have to transform the interior to sleep and eat. For the first couple days, we struggled a lot with these transitional times because the kids would be getting in the way and fucking stuff up, and then they'd get upset when we'd try to boss them around. We figured out that the kids love the whole packing and unpacking ritual if you give them jobs and approach it like a camp counselor. At the risk of sounding like a giant tool, we had some satisfying if nascent "family teamwork" experiences on this trip. My older son loved learning the van's organizational systems, and helped us remember the checklist of things that we always went through before hitting the road.
Discipline
Ha ha. Discipline is actually sort of a huge deal on a van trip because there's no getting away from each other. 'On this trip, my two-year old was going through a potent screaming phase. He screamed mostly out of frustration, presumably because he wanted to tell us things and didn't know how. It was hard for all of us. Every single morning, around 6 a.m., he was the first guy awake. I'd slide him down from the loft bed that he shared with his brother and bring him into bed with my husband and me. It was warm and cozy—primo cuddling conditions. For whatever reason, this situation made him need to scream super loud, for a long time, every single morning, brutally destroying the predawn peace. We could not figure out how to calm him down.
Ultimately, the only thing that worked was threatening to kick him out of the van. Literally. "If you don't stop screaming, we're going to put you outside," my husband said one morning, which caught me a little off guard. It worked. It was cold out there, and definitely still pitch black. I'm not sure if the little guy knew this, but there were probably mountain lions out there. The next morning the threat didn't work, so my husband reached for the door and started opening it to show he wasn't kidding (he was, obviously). After that, no more screaming. I'm not trying to tell you how to parent, but I mean, it worked for us.
The Future
Unless you can afford a nanny, traveling with little kids very rarely feels like a vacation. "Making memories," sure, but those blazing moments occur inside of days that can feel impossibly long. But if you have the time to get into a new rhythm together—say, more than four days—traveling with kids can be transformative, especially if you're forced away from your habitual coping mechanisms. That's not bullshit. The Fillmore has its drawbacks, but I believe that the interior of that van is a transformative place, and not just because the seats fold down into a bed. I think that's why people wanted to come look inside.
Kathryn Jezer-Morton lives in Montreal with her husband and two sons. She's 33, her kids are 2 and 5, and she'll be contributing a semi-regular parenting column called Hey Ma here on Jezebel.
Illustration by Sam Woolley