Just kidding, it didn't cost that much, but I would advise you to eat a big meal before your first long appointment, like Chipotle.

Ana Gasteyer Satirizes the Girl Boss in 'American Auto'
Over the last year or so—specifically, since moving to New York, a land where any look can work if you have the wherewithal to fine-tune it properly—I've become belatedly aware of the fact that blonde has become a much more all-access concept. This is partly technical, thanks to the mysterious Olaplex, a recently developed ingredient that controls bleach damage on even the most difficult hair to an unprecedented degree; blonde also just feels more aesthetically accessible these days, now that we have subsumed the Kardashians and a decade of unicorn hair dye into the zeitgeist, and "unnatural" has become exceedingly, blandly mainstream.
In particular, there's been an excellent wave of blonde Asian women, starting with models (Soo Joo Park, Marga Esquivel) and trickling on down to my Twitter and Instagram feeds—first a few, crossing my radar inadvertently, and then more when I got a bit of the bug personally and started to seek my frivolous sisters out. What the fuck, maybe I'll do this, I thought, reading this xoVain piece and this BuzzFeed piece; my intensive academic research on Asian blondes also took me to a hot style blogger, another hot style blogger, some sort of porn Tumblr, and a nice regular Tumblr. The look seemed interesting, if not necessarily a home run; then, after a couple of weeks of following CL on Instagram, I was sold.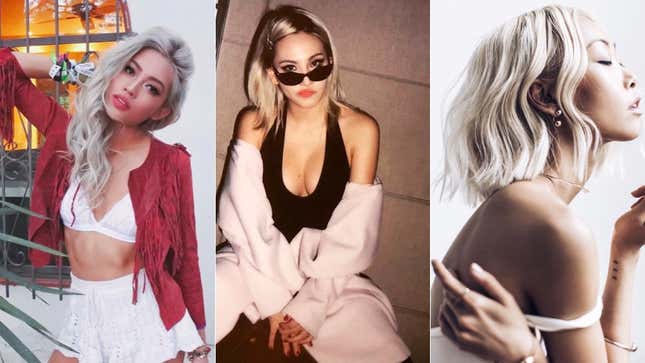 G/O Media may get a commission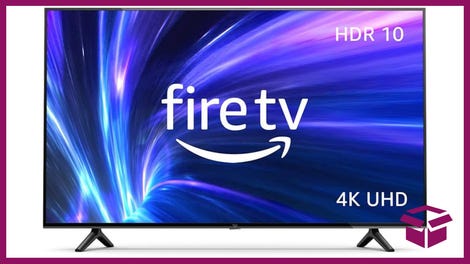 42% Off
Amazon Fire TV 50" 4K Smart TV
My main worry as I thought about going blonde was a very reasonable one: that my hair would turn to straw and fall out. I'm not a purist about hair health: I've been gently destroying my natural near-black since high school, mostly with highlights that would become some approximation of "ombré," which helped the texture show up in my thick, dry, wavy hair. I'd bleached it all way out once before, in the process of doing some elaborate at-home dip-dye; for a long stretch I really liked how it looked (this was also three years ago, mind) but the initial bleach job was extremely shitty, and eventually my hair felt like applesauce when I washed it, and so I had to hack the color off and start anew.
There are so few definite perks to being a woman that I try to take advantage of the ones that I am attracted to naturally (like having society support me in my vain quest to change my hair as often as I can). So I stalked all my blonde Asians for a month or so, and then booked a consultation at Suite Caroline, a salon in Soho owned by Lena Ott, a colorist who's responsible for the balayage you see on many a Victoria's Secret supermodel, as well as several of my girlfriends who have had extremely cool hair colors for years.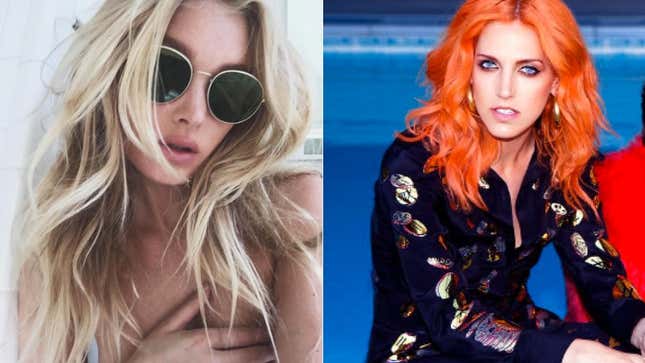 When I got to the salon, I met Cara, petite and blue-anime-eyed and smiling, a platinum blonde herself. She sat me in a chair and asked me what I was thinking.
"I'm kind of thinking something sort of in the vague range of this...." I said, whispering "help" as I scrolled through my camera roll. Her response was encouraging—there's no blade of validation sharper than "Yeah, you could totally pull this off!!!!"—and she ran me through the basics: we could definitely do it in one shot, but it'd be a long appointment, and she'd charge by the hour, and once I did the big jump I'd never have to sit in the chair that long or pay that much again. We agreed that one would only ever be young once, and that one must not be ashamed to indulge one's whims. I booked an appointment and emailed the other Jezebel editors on the way home. I'm going to work remotely on Friday, I tapped, from the *HAIR SALON*, ha ha ha sorry I'm like this.
When I came back for my appointment, I had a folder on my laptop full of the specific photo inspiration that Cara had asked me to bring. Under her diplomatic tutelage, I realized that I literally could not tell one type of blonde hair color from another. "Well," she said, "that one's really, really platinum, basically silver—and that one is a white girl with highlights—and this is sort of a pastel pink."
"Right," I said, squinting.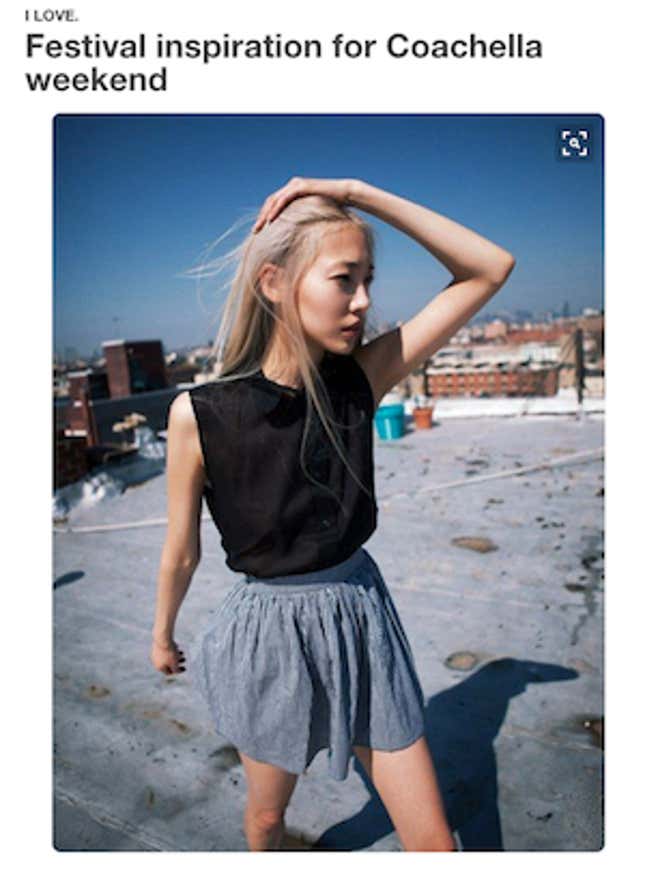 "What about this one?" Cara asked, pointing to a screengrab from Pinterest that had been captioned, not by me,"Festival inspiration for Coachella weekend."
"She looks great," I said.
"It's more....natural-looking, if that makes sense," said Cara, perhaps intuiting that a polished and dramatic high-fashion platinum was not necessarily the best choice for a blogger who came in to the appointment saying I'm good, how are you, I just had Chipotle so I'm really good actually and who had misplaced her "NEW HAIR" desktop folder within another folder containing exclusively frog memes. "Yeah, let's do that one," she said.
"Great," I said, secretly never happier than when I am completely helpless in a kind woman's hands.
All the advice I'd read about taking black hair to blonde stressed the importance of coming in with your natural hair color, which mine was not: the bottom half was bleached and dyed pinkish, at the tail end of another weird dip-dye situation. No problem, Cara said. (Eventually, she did have to pull some tricks to get the tail end of that color out—shoutout to Special Effects, truly the longest-lasting at-home color dye in the game—but, as she said, and I'd trust Cara with my life, there was no problem.)
The bleaching started. Cara mixed a big cup of blue stuff up, and then meticulously rolled my hair up in these little cloth cloud cigarettes, which she then covered in Saran Wrap. I was working, so I didn't notice the extent of what was happening until I started to feel like I was very, very high, and then I was like, why did you get high for this, it's the work day and you're in public, and then I realized that my head just felt extremely heavy and weird from the ornate and voluminous wig of heavy cotton I was wearing as well as the actual bucket of bleach that was soaking it to my head.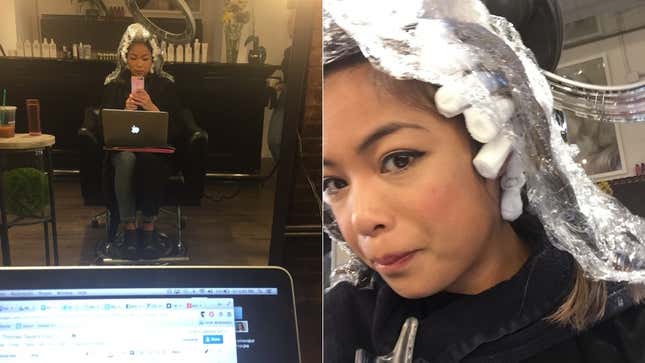 She put me under some heat for awhile, and then the dreaded bleach burn began. And, let me tell you, as others will, this burn is really, really something. Cara hadn't painted the roots yet—because of interference from the natural heat from your body, they do the roots later—and still the burn felt like the physical sensation of realizing you'd made a very, very, very, very bad mistake. It was fire ants, five-alarm panic territory. My breathing sped up. Inside, I screamed. My scalp felt like it was blistering, which it was—I had scabs (!!!) for a week afterwards—and by the time Cara took off the Saran Wrap the top of my hair was steaming.

That was the first part of the double process: the bleach. The toning step, the second part, came next. Cara called each application of toner a "gloss," and over the course of the next few hours, she carefully lifted the horrifying yellow-orange you see on the left below ("If you're taking a selfie right now, don't worry about the fact that your hair kind of looks crazy," Cara said cheerfully, as I took that photo) to a cooler tone, which you can see on the right. This process involved a lot of roots and scalp stuff—layer after layer of searing pain that I vowed to tolerate in silence, and did, except for one time that I whimpered "Help, mom, I am hurting" and Cara rescued me with lots of cool water to the head.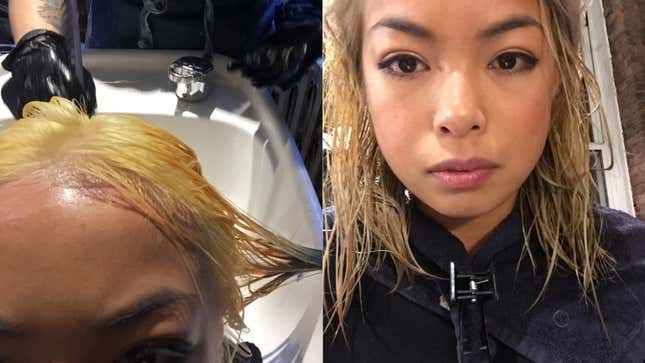 The whole thing was very mysterious. I kept asking Cara what the steps were ("I'm going to write about this!") and mostly she just reminded me about basic color theory: blue balances out orange, purple balances out yellow, etc. "But sometimes," she said, and I could hear her trying to put into words a calculation that comes instinctively to her, like when you ask a sound engineer how they mix a given project, "sometimes you have to go a roundabout way, through a warmer tone on the way to cool." She kept looking at me and then rushing over to the color mixing station and then painting what felt like random sections of my hair with a concoction that she would rinse out five minutes later and then do again. I want to say she did this about seven or eight times, maybe including the round where she painted faux roots into the top of my hair, which—I gathered—was necessary to keep the whole thing from looking like a wig.
Eventually, Cara decided the color was done, and I stood up from the sink and observed it and tried to think of the most luxurious description I could find. "Champagne cocker spaniel," I wrote in a text. It air-dried, feeling remarkably intact, if still delicate enough that I suspected I could grab a handful and snap it right off, like wet crepe paper. But I refrained from doing that, and the color dried beautifully—I felt very cool walking down Canal to the Q train with my new hair and a scalp as tight as a nut (Figure 2)—and I was relieved to see that it still looked like a reasonable decision in the light of the next day (Figure 3).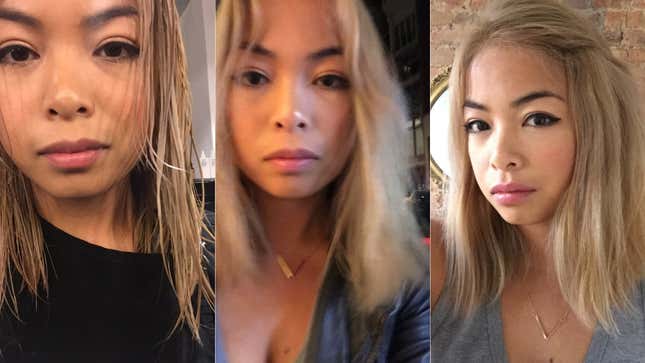 Did I mention that it was expensive? That's the real secret, probably; if you're as unnatural a blonde as I am, you probably get what you pay for. I had taken a couple of freelance assignments that I earmarked specifically to pay for my vanity, and paid probably $700 that appointment, and will keep paying a couple hundred whenever I touch the color up.
About three months have passed since then, and my hair still feels good; it's lost all its texture and never feels dirty, so it just hangs there. (Though I can't go to sleep with wet hair or I look completely—to the point where people around me start ostentatiously laughing—insane). The roots look fine up to about eight weeks, I think, and in general my hair has been pretty easy to take care of, which is not at all how I thought this would be. I credit this largely to Cara being a wizard (as well as to Olaplex... again, whatever that is); I also have become a huge proponent of this particular two-part protein treatment, which costs $12 and smells a little bit like vomit, but immediately made my hair stop feeling gummy in the shower and 95 percent more like hair.
It's magic. I promise. You pour the protein solution (yikes) on your head, dry it without disturbing the hair until it is a solid and rock-hard cap; then you rinse it out, use the conditioner, and suddenly, your hair feels almost exactly back to normal. According to the package, and according to me, the effects last perfectly for about six weeks.
What else? When I wash my hair—twice a week, a schedule that is not difficult for me, a former every-other-day washer, as I do not do any type of physical activity that makes me sweat—I use this Davines shampoo and conditioner for silver hair, which is a rich blue-purple and has successfully kept brassy vibes at bay. Davines is also painfully expensive but my hair's shorter now, and the bottles work out to cost me about $15 per month.
Every week or so, I use some of this Overtones color-depositing deep conditioner in pastel purple (edited to add: I usually mix this with some regular conditioner and leave it in for 10 minutes, and my hair doesn't take the color the way the website shows) and I have also started sleeping on a satin pillowcase (which I learned I needed when I had dip-dye because I'm a horrible sleeper and toss around for hours before I go to bed, disturbing my already heinous biorhythms but more importantly my hair). And finally, I use this Joico hair oil, which is what saved me from my bad bleach job in 2012, and is still the best for the money as far as I'm concerned. After I wash my hair I put like 12 pumps of this oil in it, and it dries feeling great.
That's it. You can do anything with technology, cash, and permission. I'm blonde now, I'm a brand-new person, and I will never feel sorrow again.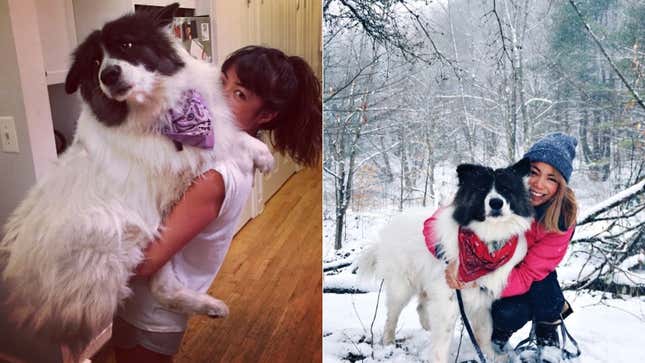 ---
Contact the author at jia@jezebel.com.

Illustration by Angelica Alzona