The interview Robin Roberts did with President Obama today in which he finally came out in support of same sex marriage was big news for the country, but it was big news for Roberts too, since it's about as big a get as a journalist can land in a career. Naturally, the picking apart of how she ended up in that coveted seat has begun.
Talking Points Memo has a cool blow-by-blow of what went down. The White House called on Tuesday asking about Roberts's schedule and by the next afternoon she was parked across from the President making a huge headline—it must have been quite a whirlwind. The network was careful to orchestrate the release of the news with almost military precision to maintain the exclusive and get the most bang for their buck, and it seems to have worked.
As for why Roberts was picked out of all the potential interviewers, Jeffrey Schneider, senior vice president of communications at ABC News, told TPM it was because, "Robin is a very thoughtful interviewer, whose style is perhaps more conversational than confrontational, but she sure makes a lot of news with that approach." An ABC producer was a bit more blunt in talking to Politico:
The White House went with Robin because of her personal rapport, their friendship, the past interviews — but also her race [African-American], even her age. There is a very strong, very basic connection there.
G/O Media may get a commission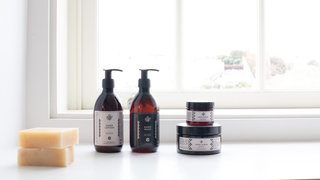 Exfoliate and Hydrate
The Handmade Soap Company
That may be true, and the two share a deep love of sports which by all accounts they've bonded over. But it seems most likely that they picked Roberts because she is an experienced, friendly interviewer with a huge platform and a lot of viewer trust. Or, if you believe a White House source, the interview was given to ABC simply because they'd given NBC's Brian Williams a big "Inside the Situation Room" interview last week. It makes you wonder kind of scoop they've got waiting to hand off to CBS next week? In any event, this moment was a big one for Roberts and she handled it like a champ. The buzz is likely to continue at least through tomorrow when the interview will surely be the talk of Good Morning America.
How Robin Roberts Landed The Obama Interview [TPM]
Why ABC's Robin Roberts got the exclusive [Politico]