Do you know who Patrick McDermott is? It's all right if you don't. I didn't know who he was until this morning, but now that I do, I sort of wish I didn't. Knowing who Patrick McDermott is—today, specifically—is exhausting, because Patrick McDermott would prefer it if you didn't know who he was at all.

See, Patrick McDermott used to date Olivia Newton-John (her you probably know), but "disappeared from a fishing charter boat" off the California coast in 2005, nine years into their romance. If you Google Patrick McDermott right now, these are the kinds of stories you'll find:
They're all in reference to a Woman's Day exclusive, published Tuesday, that claims 59-year-old McDermott has been found "living and working in the isolated Mexican village of Sayulita" with a German girlfriend. "Proof at last!" the cover screams. The mystery has finally been solved!
G/O Media may get a commission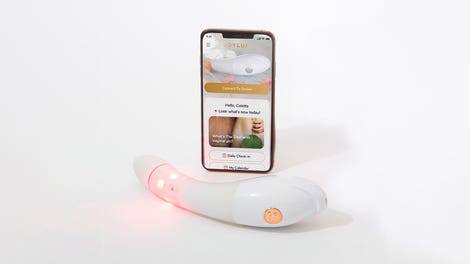 $50 Off
Joylux vFit Gold Device
The thing is, though, McDermott has been trying to tell everyone he's alive for a while now, and that he just wants to be left alone. Though some of the immediate responses to his '05 disappearance suggested that he had died by suicide, it didn't take long for many outlets to start speculating that he was probably alive—and that his disappearance was merely a way to escape some legal troubles.

In June of 2006, The Sydney Morning Herald wrote:
Olivia Newton-John's missing boyfriend Patrick McDermott is reported to be living in Mexico.

An investigation by a newspaper has found three witnesses who have seen McDermott on Mexico's remote Baja Peninsula as recently as 10 days ago.

The paper says McDermott, 48, is now suspected of faking his death on a fishing trip last year to escape mounting debts and a possible jail sentence over thousands of dollars in unpaid child support.
A few weeks later, on TMZ:
[Private detective John Nazarian's] search for McDermott led him along the Mexican coast and eventually to a local watering hole called The Sandbar, where owner Jed Galatro told "EXTRA" that his staff spotted McDermott after recognizing him from a missing person poster. Nazarian also spoke to the owners at Marina's Café who say McDermott was there with a mystery blonde.
Then, in April 2010, from the New York Daily News (emphasis mine):
The addresses led the investigators to the Mexican-Pacific coast near Puerta Vallarta, where McDermott had been living under his birth name.

After they were able to retrieve "documentation and voice imprints" from him, Klein called an official end to the hunt, saying they had "concluded beyond a reasonable doubt that Mr. McDermott is alive."

"Mr. McDermott's wishes, according to his counsel, is not to be 'hounded' any longer by investigators or the media," Klein said last week at a press conference.
The dude didn't even bother changing his name. And if that weren't enough, let's fast forward two months:
So today, after a stranger stops you on the street and screams, "DID YOU KNOW THEY FOUND PATRICK MCDERMOTT?" just smile, gesture for them to lower their voice, and say, "I know, babe. I honestly know, babe."
---
Image via Getty.