Just one, apparently! This afternoon, Teen Vogue intern "Cynthia" gives us a sneak peek at the ins and outs of working as a intern at the highfalutin' Conde Nast teen title (unpacking trunks, photographing clothing, picking out hats, the aforementioned lightbulb!) and imparts advice on staying on top of the intern heap (make to-do lists, ask questions, be proactive).
Yup, that makes sense. But how does one get in on the much-publicized Teen Vogue internship program in the first place?
My advice for anyone applying for an internship would be to be prepared to answer anything from who your favorite up and coming designers are to why you think you are an eligible canidate [sic] for the position.
Hmm, we've heard that one before, we think. What else can you tell us, Cynthia?
A good friend and former Teen Vogue intern, Sara Moonves (who is now in the New York Vogue office) recommended me for the position.
G/O Media may get a commission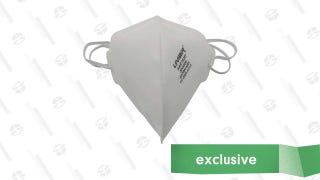 NIOSH CDC-Certified N95 Masks (10-Pack)
Oh. You mean Sara "Daughter of CBS-president Les" Moonves. We knew it would come down to nepotism.
Meet Cynthia [TeenVogue]
Earlier: How To Ace A 'Teen Vogue' Interview: Love Clothes!