In the olden days, magazine editors were famed for...well, I guess not a lot of them were famed so much as respected: for cultivating writers, ushering in new journalistic forms and most critically, broadening the horizons and sating the curiosities of any reader longing for a connection with the world outside themselves. But onto the present! Bonnie Fuller and Anna Wintour, the most influential, economically important magazine editors of our time, were profiled in the weekend papers in two stories from which we gleaned a new job description for those of you pining for success in this most rewarding field. Just as Wintour "taps into that core desire to be gorgeous," you see, Fuller focuses on "that prurient desire to know just a little bit more." Further explains Janice Min, Bonnie's successor at US, the job is "to almost distill the id of the reader." The Id of the reader! I remember hearing the same rationale behind a certain author's recent romance with animal pictures. Maybe that's just it! You have to learn how to locate and then stimulate that magical spot deep within the hippocampus where women's most infantile desire for fabulosity collides with their worship of large numbers.
Here, allow me to excerpt. Here's the NY Times' David Carr on Fuller:
When the current issue of Glamour promises "101 Racy Little Sex Ideas," you are seeing Ms. Fuller's twining of sex and numerology. Ditto for this week's People, which promises "91 Sexy and Single Guys." The added single digit seems gratuitous, but admit it: you wonder what the 101st weapon in the erotic arsenal looks like and which guy came after the 90 other hotties. That prurient need to know just a little more is pure Bonnie Fuller.
The critical moment — Ms. Fuller's version of published cold fusion — arrived in 2002 when she took over Us Weekly, a distant cousin of People magazine that Jann Wenner owned. She not only turned Us into its own darn thing, but found a way of presenting celebrity news as a not-so-guilty pleasure... "I'm not embarrassed to say that I was reading proofs in the delivery room," Ms. Fuller wrote of the birth of her second child.

And ex-employee Robin Givhan of the Washington Post on Wintour, whom she reminds us is famous for being thin and having bobbed hair and forcing other people to get thin and bob their hair and also, dressing in Prada:
The magazine is at its most provocative, though, when it turns its attention to personalities not typically associated with high fashion — Oprah Winfrey, Laura Bush, Hillary Clinton, Michelle Obama, Cindy McCain, Condoleezza Rice. The resulting photographs are fascinating not because of any reality they reveal but because of the fantasy they unleash.
Vogue sets its sights on an of-the-moment character and transforms her into an impossibly perfect version of herself. In the accompanying story, her accomplishments are detailed: Her charitable acts. Her legislative successes. Her business acumen. But the primary photo rarely illustrates all that brainy, do-gooder activity. The photo is pure glamour.
It taps into that core desire to be gorgeous and declares it righteous and worthy and, most important, smart. Vogue validates the modern careerist's fantasy, that she can run the world and look fabulous doing it.
G/O Media may get a commission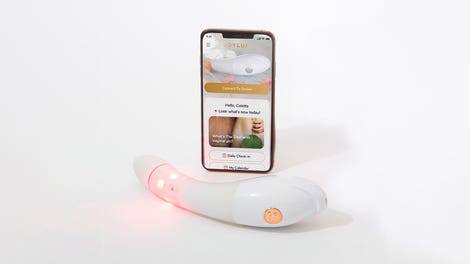 $50 Off
Joylux vFit Gold Device
I happened to be on the bus while I tugging at my nonexistent beard (since I can't caress my nonexistent schlong in public!) reading these stories. What was my problem with all this? I glanced at the little girl next to me. Clad in a pink ruffled shirt and a pink tiered skirt with soft metallic streaks on the lowest ruffle, bejeweled silver sandals and a few subtle pink streaks in her hair, she looked about five, and reminded me of myself at the same age. She was reading a book called The Jewel Fairies: Collection 1, Books 1-4. Over her shoulder I read the words:
The little fairy wore a prett dress with a fluttery skirt. The dress was white but every time the fairy moved it shimmered...
I didn't get any further, because at that moment she flipped to the front cover and stopped reading. I didn't blame her. That Id, it does get boring! Maybe because neuroscience has sort of pointed out how — unlike the G-spot! — it doesn't really exist. Or maybe it's just the cold fusion, thawing out, I don't know. Either way, around that point my basest instincts intervened and summoned my attention to a story in the Journal about the disenchantment of Iranian youth with religion. They're turning to self-help, it turns out! Before long they will be seeking solace in celebrity gossip and perhaps fabulosity too when the oil revenues kick in. But eventually they, too, will get bored, right? You're sort of sick of animal pictures, no?
No?
Eh, I give up.
The Editor Who Keeps Vogue In Fashion [Washington Post]
101 Secrets (And 9 Lives) Of A Magazine Star [NY Times]