Have you slept with Donald Trump? If so, and you're interested in speaking publicly about it, an opaque web of legal agreements, hush money, and shady players may await you, according to an exposé published Friday in the New Yorker.
The piece, written by Ronan Farrow, recounts the story of Karen McDougal, 1998's Playmate of the Year and runner-up for Playmate of the '90s. McDougal met Trump in June 2006, during the taping of an episode of The Apprentice. Though he had recently married and had a child with Melania Trump (Barron would have been under three months old), the two began an affair described by McDougal as consensual. Farrow bases the piece, in part, what he says is eight pages of handwritten notes about the affair which he obtained from a friend of McDougal's. In the document, Farrow says she goes into the specifics of the relationship, which sound to be fairly standard of how Trump conducted affairs with women during that decade: McDougal says he would invite her to golf tournaments and to join him in his hotel in Beverly Hills, and paid for all of it—although, she noted, there was never a paper trail, with him reimbursing her once she had bought plane tickets and hotel rooms. Once, after sex, she says he offered her money, which she declined.
It's a story that we've miserably heard many times. What we haven't heard—or at least in so much detail—is what can happen when one of these women decide they want to talk, and how the apparatus that works around Trump can swiftly swing into gear, rendering one-time consensual encounters something much more sinister.
To even invoke the idea of consent in these wealthy (or at least "wealthy") public figure-civilian woman configurations becomes somewhat quaint. Whatever consent McDougal gave in 2006 was quickly made irrelevant once pressured into a far-reaching legal agreement that stripped her, she says unknowingly, of most of her rights to recourse.

G/O Media may get a commission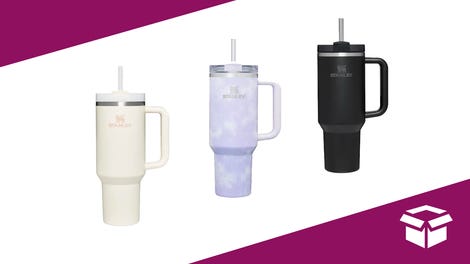 Up to 45% off
Stanley Cup Sale
Farrow writes that days before the 2016 presidential election, the publisher of longtime Trump sympathizing tabloid the National Enquirer, American Media Inc., paid $150,000 and the promise of a regular column from McDougal to buy the exclusive rights to her story, with the intention of burying it. From the New Yorker:
Purchasing a story in order to bury it is a practice that many in the tabloid industry call "catch and kill." This is a favorite tactic of the C.E.O. and chairman of A.M.I., David Pecker, who describes the President as "a personal friend." As part of the agreement, A.M.I. consented to publish a regular aging-and-fitness column by McDougal. After Trump won the Presidency, however, A.M.I.'s promises largely went unfulfilled, according to McDougal.
The details of the A.M.I. transaction are slightly convoluted, but, in short: McDougal's friend John Crawford got in touch with a friend in the porn industry, who in turn got in touch with a lawyer named Keith M. Davidson—who is, coincidentally, a lawyer reportedly involved in the dissemination of Hulk Hogan's sex tape. Davidson, according to the New Yorker, "had developed a track record of selling salacious stories." He contacted A.M.I. on behalf of McDougal; the company initially offered a lower amount of money for the rights, but bumped it up once Trump won the presidency.
Soon after, Farrow reports that McDougal was largely shut out of the deal, and that Davidson, and the men who claimed to represent her, made lucrative transactions at her expense.
On August 5, 2016, McDougal signed a limited life-story rights agreement granting A.M.I. exclusive ownership of her account of any romantic, personal, or physical relationship she has ever had with any "then-married man." Her retainer with Davidson makes explicit that the man in question was Donald Trump. In exchange, A.M.I. agreed to pay her a hundred and fifty thousand dollars. The three men involved in the deal—Davidson, Crawford, and their intermediary in the adult-film industry—took forty-five per cent of the payment as fees, leaving McDougal with a total of eighty-two thousand five hundred dollars, billing records from Davidson's office show. "I feel let down," McDougal told me. "I'm the one who took it, so it's my fault, too. But I didn't understand the full parameters of it." McDougal terminated her representation by Davidson, but a photograph of McDougal in a bathing suit is still featured prominently on his Web site—according to McDougal, without her permission. The Wall Street Journal reported that, two months after McDougal signed the agreement with A.M.I., Davidson negotiated a nondisclosure agreement between Clifford and Trump's longtime personal lawyer and fixer, Michael Cohen, for a hundred and thirty thousand dollars.
Shortly after, Farrow writes that Davidson negotiated the non-disclosure agreement between Stephanie Clifford, also known as Stormy Daniels, with Trump lawyer Michael Cohen, for $130,000.
McDougal told Farrow that she feels she didn't understand the terms of the agreement at the time and she feels afraid of legal retaliation. "It took my rights away," she said of the deal. "At this point I feel I can't talk about anything without getting into trouble, because I don't know what I'm allowed to talk about. I'm afraid to even mention his name."
The binding nature of the deal (though not the nature of the relationship) is reminiscent of similar non-disclosure deals Harvey Weinstein made with his victims, also reported by Farrow. Through the #MeToo revelations of the past year, we've become unsettlingly familiar with how powerful men can silence women along a spectrum of situations they deem unsavory—from physical violation to simply being a witness—with a bottomless legal budget and a team of loyal attorneys, game to slap anyone who falls out of line with an NDA.
A White House spokesperson denied the entire story: "This is an old story that is just more fake news. The president says he never had a relationship with McDougal." Additionally, A.M.I. denied that it had any influence on the president, calling it a "flattering," but "laughable" idea—a denial that's laughable in its own right given the National Enquirer's history as something of a mouthpiece for Trump.
The article also contains details about Trump's offensive behavior during his affair, like one occasion when McDougal says Trump commented that a friend of McDougal's who had had a relationship with a black man liked "the big black dick," and that he once allegedly called McDougal's mother, who is close in age to Trump, "that old hag." Read the whole piece here.