My favorite Hills personality, Lo Bosworth, chronicled everything she ate during the 4th of July weekend, and it seems decadent. Like Lo loves eating oysters and "lox on lox on lox" at fancy-sounding restaurants.
Truth be told, I can sometimes go through a whole week spending money I don't have on food at trendy, expensive New York restaurants, but 4th of July weekend was not like that for me. Behold: a comparison of what Lo ate and what I ate.
Thursday, July 3
What Lo ate:
I get off the train at Bridgehampton starving, and go to Townline BBQ and order almost everything on the menu. My friends and I end up with two pulled-pork sandwiches, two pieces of cornbread, one piece of corn, half a pound of beef short ribs, 14 chicken wings (that's two orders), and three deep-fried pieces of mac and cheese. Everything is consumed. All the foods. All the foods! It's also the first time I've eaten a chicken wing in my life. My friend demanded I dip it in the provided ranch dressing and I complied.
What I ate:
My mom and I drove back to New York that day. She had a coupon to Chipotle (!) so she treated me to two burritos. During the car ride, I chowed down on a fat chicken burrito with black beans, cheese, corn, mild and medium salsa, sour cream and lettuce.
G/O Media may get a commission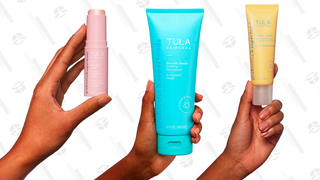 Friday, July 4
Lo:
I've made a Flag Cake (my tenth year in a row), and I've modified the recipe this year to include Greek yogurt in both the batter and frosting. The result is a moist cake — lower calorie, but with an equally delicious sugary exterior. I offer my friend the first slice and end up finishing it for her.
Me:
My mom cooked up so much good homemade Chinese food, but I was busy being the only person blogging at Jezebel so I forgot to eat during the day. And then my electricity went out for two hours and I was forced to blog on my phone. When we went to the Brooklyn Bridge for fireworks that evening, though, I did eat the other Chipotle burrito (everything was the same as the chicken one except with carnitas). It was cold, so it just tasted like chilly mush. I'm sure the crowd around me appreciated the smell.
Saturday, July 5
Lo:

I make the executive decision to put some additional fresh food into my body for the first time in what feels like days. We head to Seth Levine's new spot,the Seawater Grill at Gurney's Inn. I ate here once before and am happy to return, the food feeling schmancy and light, molecular yet comfortable. I delight in ordering off of the appetizer menu when I dine out. The raw fish really steals the show here, but the tuna-tartare tacos are a favorite, and the yellowtail crudo is fresh and light.
Me:
My mom, aunt and I went to Flushing for Dim Sum! The cow tripe was amazing.
Sunday, July 6
Lo:
Lunch is salad samplers from Loaves & Fishes, off Old Montauk Highway: two chicken meatballs in a tomato sauce, delightful fresh peas, and a quinoa, carrot, and chives salad. Everyone is suddenly going ga-ga over Loaves & Fishes. I'm charmed and full, but not convinced.
Me:
My mom drove back home, so I drank a lot of white wine from Wegman's (that supermarket is my happy place). Then I went to my friend's place and ate her leftover pulled pork.
Monday, July 7
Lo:
I rise early. I feel mediocre. No longer exhausted, still deprived of my normal diet of fresh fruit and veggies and daily seafood. I drink a Kombucha, what I feel to be the cure for everything, and take a very long stroll along the West Side Highway to begin my Monday.
Me:
I did not rise early or drink Kombucha; I also felt mediocre. I ate the leftovers of what my mom cooked.
Tuesday, July 8
Lo:
Then, it's oyster, oyster, oyster time. I slurp down six from Montauk with two options of mignonette sauce to choose from, along with cocktail sauce and lemon. Of course, they're fantastic. Onto uni toast. Holy. Moly. Uni. Toast. Gently placed on a slice of pretzel bread and topped with mustard oil and pickled green apple and chives, the sea urchin stuns me into a dreamlike state — a reminder that if executed skillfully food truly is a universal language of love. If you have anything at ZZ's, it must be the uni toast ...
... Or the live scallop, with pistachios and brown butter. Or the parrotfish, watermelon, and coriander ceviche. Or another cocktail, which I do (two more times). One of the best meals I've eaten in New York City to date.
Me:
I boiled some frozen dumplings. I'm not sure what was inside them.