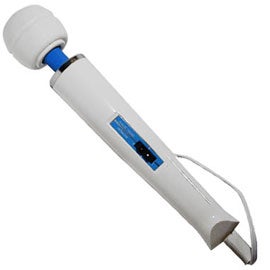 A story on Utne about "green" sex toys the other day got me wondering: how exactly does one get rid of a sex toy? Particularly the large ones, meant for those who mean business? I used to have a humongous Dr. Scholl's personal massager that my ex-BF's mom gave him for Christmas one year after he started weight-training. (Weird, I know.) Naturally, I called dibs on it and used it as my main vibe for years, long after we'd broken up. Then, one day, it started sparking, turned black, and conked out so I ripped the cord out of the wall, in fear that it might start a fire. When I walked it out to the kitchen and stepped on my trashcan pedal to throw it out, I realized that the vibe was almost as long as the garbage. (I'm not kidding, I measured it and it was a little over 18" long.) And then it hit me: maybe I should be put it out on the curb on the "large electronics and metal" recycling day. As a substantial piece of machinery, it seemed like it qualified!
The UK-based adult toy shop LoveHoney actually started a great recycling program for sex toys, but that's not going to help us on this side of the pond. I dug around, and found one website that claims to be part of a sex toy recycling company, but with no address, phone number, or specific instructions, it's most likely just a joke.
In the end, I ended up not putting my big broken vibe in my garbage, choosing instead to place it in a plastic bag and tossing it in the dumpster in front of my building. One other Jezebel editor says she walked her broken vibe down the street so that her super wouldn't find it when sorting the trash. So here's the question: what should we do with broken vibrators?
Related: How Green Are Your Sex Toys? [Utne]