Oh dear. There's a very troubling letter in today's Financial Times by a distraught citizen with a dodgy coworker. Really, there was nothing to do but get the opinions of a bunch of dead people, without delay.
My colleagues and I are convinced that one of our co-workers is insane. The details are bizarre and too numerous to go through, but as an example, when collecting clothes for needy children we found that this worker, who admitted to never having been in a relationship, mentioned that he had a basement full of toddler clothing. When I told him about an encounter with a pushy beggar, he said: "You should have sliced his hand off with my knife." I have this fear that something bizarre will happen and then when the police ask: "Were there any signs?" we'd answer: "Sure, tons of them." Yet what were we going to do? Go to human resources and tell them he's crazy?
Dorothy Parker: Sticks and stones are mighty harsh/But beat your body in a marsh.
Soapy Smith: "Collecting clothes for needy children?" I know that game.

Lizzie Borden: Don't you travel with your own weapons?
Michel Foucault: Maybe you're insane.
Marie Antoinette: What are these "coworkers" of which you speak?
Jesus Christ: Y'know, you should really be more careful how you treat beggars. That's all I'll say. Verily.
G/O Media may get a commission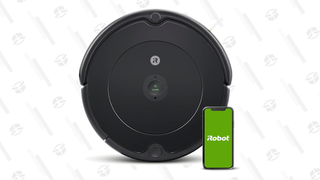 35% Off Black Friday Deal
iRobot Roomba 694 Robot Vacuum
Sigmund Freud: And who are you, Freud?
Jeffrey Dahmer: In his defense, there are much worse things you could have in your basement.
Robert Frost: Good fences make good neighbors.
Oscar Wilde: At least madness would be amusing; this is tedious.

Henry Darger: What? Some of us really like toddlers. And sometimes the state won't let us adopt, okay?

Baby Jane Hudson: Exactly! How else are you supposed to do musical numbers?
Jack the Ripper: Hand? Then they can identify you! That's why the lord made "disemboweling."

Franz Kafka: You say "something bizarre" like that's a bad thing.
Jane Austen: One may live a very full life without a "relationship," Sir.
Jack Kerouac: Fuck offices.
DearLucy [Financial Times]