Angelina Jolie is one step closer to winning the Oscar for The Tourist! Maybe Aaron Sorkin can write her next winning role as a sassy computer programmer. Okay, maybe not, but other women did just fine at The Golden Globes.
First off, there were two women-directed films that got major awards: Lisa Cholodenko's The Kids Are All Right for best comedy or musical, and In A Better World, by Danish director Susanne Bier. It's still rare enough for women to direct films, let alone be honored for them. (Although Debra Granik has been serially robbed when it comes to Winter's Bone.)
Even as everyone hotly debated whether Ricky Gervais was shockingly funny or rude and hackneyed (Time's James Poniewozik called it "the Hollywood version of Stephen Colbert at the White House Correspondents' Dinner"), Robert Downey Jr. stole the show with his speech. "I don't know if an actress can do her best work, until I've slept with her, Julianne....Told her that I was working with strange new feelings that were confusing me, Angie, only to have her blow me off half way through the shoot like it never happened, Annette."
"I guess I'm just saying, If I could, I'd give it to all five of you. At once, right here in front of my wife, the audience, and millions of viewers," he finished. It was crass, but RDJ's charisma made it work.
G/O Media may get a commission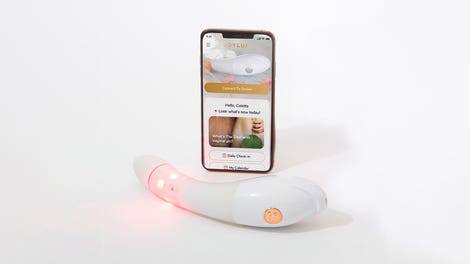 $50 Off
Joylux vFit Gold Device
Incidentally, despite Gervais' litany of jokes about women, age, and sex ("I was sure the Golden Globe for special effects would go to the team that airbrushed [Sex And The City 2's] poster. Girls, we know how old you are," plus Hef penis references) there was a pretty good range, in Hollywood terms, represented among the winners. Annette Bening, Jane Lynch, and Laura Linney (for The Big C, absent due to her father's recent death) took acting awards, and so did elite-educated Claire Danes and Natalie Portman.
(Portman was uncharacteristically goofy, saying of her fiancee, "You might remember him in the movie as the guy when they ask, 'Would you sleep with that girl?' And says, 'No." He's the best actor. It's not true. He totally wants to sleep with me." Her slightly dorky giggle and its effect on her sex appeal was a hot topic on Twitter.)
Speaking of elite education, The Social Network did extremely well, giving it momentum going into the Oscars. (Likewise, Portman and Colin Firth for Best Actor.) Accepting one of its four Golden Globes, for best adapted screenplay, Aaron Sorkin gave a speech that included the line, "And I want to thank all the female nominees tonight for helping demonstrate to my young daughter that elite is not a bad word, it's an aspirational one. Honey, look around, smart girls have more fun, and you're one of them."
Maybe it was about Sarah Palin and the Tea Party. Or about critiques of how women were represented in The Social Network. (To reiterate the critique on this site, since there seems to be have been some misunderstanding: We were perplexed at him for creating a parallel reality that was actually more misogynistic — and white — than the reality as it's reflected in both Mark Zuckerberg's life and the Harvard of the time.) In any case, it appears he and his film are heading into the Oscars with a strong advantage, with some undercurrent threat from The Fighter.
You can see a full list of winners here.
'The Social Network' Dominates Golden Globes [NYT]
Ricky Gervais' Golden Globes Insurrection [Time]
Related Coverage:
The Only Two Globes Speeches You Need To Hear
Golden Globes Live Coverage
The Red Carpet Fashion Rundown