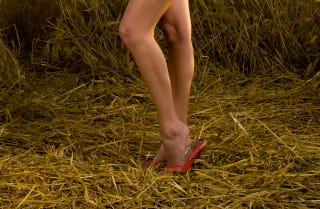 British mom Juliet Shaw was horrified when the Daily Mail turned her story of moving back to her rural hometown into a salacious tale of "Sex & the Country." So she took them to court.
Shaw was profiled as part of a 2003 Daily Mail story that she was apparently told would be about the benefits of relocating to the country. But according to her first-person piece at No Sleep 'Til Brooklands, that's not how things turned out. Shaw says she wasn't just misquoted — entire events in her life were fabricated in order to fit into a narrative of hot rural action. The Mail attributed to Shaw statements like "I've been asked out on more dates in the past three years than in the 20 years I spent in Manchester" and "eligible country bachelors have asked for my number in village pubs, on the high street, on the beach and at the local fete" — but Shaw maintains she never said any of this, since she was in a serious relationship before her move and, after her breakup, wasn't looking to date at all. She offers what she says is a particularly egregious misquotation:
"It was so refreshing talking about nature and the countryside while sitting and cuddling on hay bales, rather than discussing something vacuous about work in a noisy city bar or club."

Oh my. I laughed so hard when I read this (before the reality of the whole article hit in and I cried). I can categorically state that, prior to attending the photoshoot for the Daily Mail when we were asked to pose on bales of hay brandishing pitchforks, I had never sat on one, never mind cuddled on it. Totally, completely made up.
Shaw ended up suing the Daily Mail — in an out-of-court settlement, they offered either to pay her court costs or issue an apology. Since she chose the former, we don't really have the benefit of the paper's side of the story. Shaw would of course be far from the first person to accuse a media outlet of misrepresenting her — and she does have something of an axe to grind, as she was originally hoping to use the Mail profile as a way of promoting her business. However, it's not exactly a stretch to imagine the Daily Mail turning an ordinary story of a mom's move into a potboiler about canoodling atop hay bales — especially since sex in the country seems to be a bit of a theme for the paper. In 2009, they ran a story titled, "So DO people have more sex in the country?" In that piece, Lucy Cavendish described her steamy rural environment thus:
Girls ride around wearing tight jodhpurs (apparently men love this), wrapping their legs around huge, steaming horses.

Men strip off down to their work trousers and haul hay bales round the place.

Blacksmiths with bulging muscles hammer hot shoes on to horses' feet.
Cavendish's contribution to the article is written in the first person, and it's unclear how much input she got from Mail editors. And just because adding some hay bale hanky-panky to a story seems like the kind of thing the Mail staff might do doesn't mean that Shaw's account of things is entirely accurate. Nonetheless, it's a pretty fascinating view of what it's like to be the subject of a lifestyle piece in which you barely recognize your life. And Roy Greenslade of the Guardian offers a journalist's point of view: "Ms Shaw's story shows why the public do not share our enthusiasm for press freedom."
A True Story Of Daily Mail Lies (Guest Post) [No Sleep 'Til Brooklands]
Juliet And The Sex-Obsessed Daily Mail [Guardian Greenslade Blog]
Image via Aleksandr Markin/Shutterstock.com