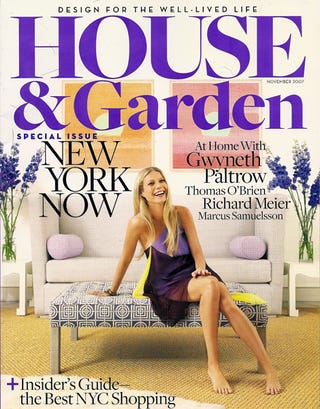 THIS JUST IN from someone who gets memos:
After considerable thought, we have decided to cease publication of House & Garden, effective with the December 2007 issue. The website, houseandgarden.com, will also be shut down. I would like to thank Dominique Browning and the entire staff for their award-winning efforts throughout the years. House and Garden's intelligent and graceful editorial attracted a loyal readership. We were proud to publish it.
This is confusing us right now, because while we'd never paid much attention to magazines about housing and/or gardening (try to guess why!) we had just read about Better Homes & Gardens being named "Magazine of the Year" by Ad Age so we picked it up over the weekend and found...a Depends ad.
Maybe there is money in chasing the old folks?