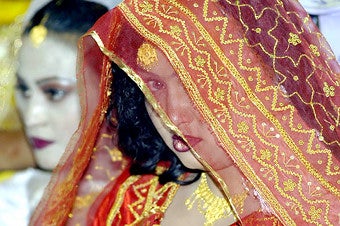 Western men, generally of Indian extraction, come to rural India, marry local women, and then leave them behind with a promise to return. The women, who are then disgraced in their communities, are knows as "holiday brides."
And yet, because of the wish for more opportunities in the west, women continue to enter into the marriages - in many cases, the parents spend all their savings to raise the traditonal dowry. As one women's rights activist estimates, "There are 15,000 to 20,000 abandoned brides in India."
Tracking down the men is complicated and expensive. The Indian government has, says the BBC, "set up a department to provide assistance to the thousands of women who live in hope of being reunited with their husbands." But the odds aren't good. As a Canadian report found, "Exasperated police, faced with hundreds of such cases, were resorting to a mix of threats and family counseling sessions to reunite couples or at least get some of the dowries back."

Indian 'Holiday Brides' Abandoned By British Husbands On The Rise [BBC]
Abandoned Brides: A Province Special Investigation [Canada.com]
RSS Feeds RSS Feed
Indian Brides, Marrying to Go Abroad, Often Find Themselves Abandoned at Home [VOA]