Just this week Pakistan, the Congo, Uganda, Afghanistan, and Thailand have made headlines concerning systemic economic and physical violence against women. So why is does much of the media continue to focus on what Hillary Clinton can't do about it?
But before I dive into Clinton, here is a rundown of what's been happening to women around the globe.
The Guardian reports that young women in the rural areas of Uganda are completely removed from financial matters, as their families immediately take their earnings and they are prohibited from forming any sort of relationship with money. In addition to the obvious issues of not being able to form money management skills, the girls are forced to fight for even the most basic necessities - even maxi pads. A lack of proper sanitary tools causes girls to miss up to five days of school a month, and has even farther reaching effects than absenteeism:
Girls at Katine primary school say their lack of money is a constant source of worry for them.

"Sanitary towels cost more than UShs 5,000 ($2.50) per pack and every year you need new books and new uniforms to come to school. I also want new underwear," says Helen Ekoth, a 14-year-old primary school student.

Ekoth says she asks her mother for money, but the family doesn't have enough to spare.

"There are some girls who go to boys for small things like soap or sanitary towels, but my mother tells me never to do this. Some girls get pregnant because the boys have given them things and then they can't sit their exams."

In Uganda 31% of girls get pregnant in their teens, the highest rate in sub-Saharan Africa. According to Plan International nearly 40% of these pregnancies are unwanted or unplanned.
The girls are trading sex for soap.
In Pakistan's Swat Valley, young girls are also fighting for their right to go to school, but have a different enemy they are warring against. In an exclusive for the Women's Media Center, Shazia Z. Rafi compares the girls to the Little Rock 9, noting that both are epic battles for equality in education:
In January this year feminists around the world sounded alarms as the Taliban overran the Swat valley, a middle class tourist haven, blew up 200 girls schools, threatened any teachers or girls who dared attend schools, beheaded detractors, and enforced their version of Islamic law on men and women. "The Taliban have been growing for a decade, with either neglect or encouragement by various governments, ending with this shameful Nizam-e-Adl in 2009," accuses Afzal Khan Lala, referring to the law's enactment. Khan Lala, who lost two grandsons to fighting the Taliban, was the sole holdout among senior politicians from Swat. [...]

The war in Swat is still smoldering; only 10 percent of the students have attended the first week of school; majority of schools are still closed or to be rebuilt. Much of the Taliban leadership remains at large, although clearly identifiable as they are giving media interviews by mobile phone. The Pakistan government must use superior force and technology to find them, jam their websites and their terrorizing FM radios and then sustain the political will to arrest and prosecute the Taliban under the Pakistan penal code. The United States must help Pakistan financially and technologically in this operation.

As the Obama Administration and the donor Friends of Pakistan group meet on August 25, 2009 in Turkey to review Pakistan's aid package-including support for the Malakand/Swat division-the key benchmarks of progress are not the numbers of Taliban dead but the numbers of girls, and boys, returning to schools. The Pakistan state must provide visible and sustained security to Swat's school children-they are Pakistan's Little Rock Nine.
G/O Media may get a commission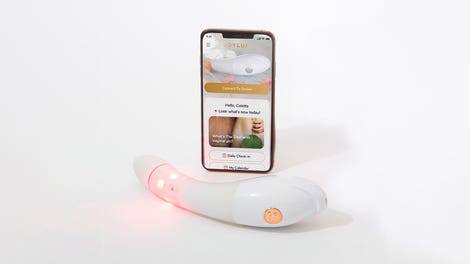 $50 Off
Joylux vFit Gold Device
Over in Afghanistan, women are finding that the strong rallying cry of women's rights used as one of the reasons to go to war post-9/11 was actually just a piece of rhetoric used by the Bush Administration to drum up support. It has been seven years, and Rachel Reid of the Human Rights Watch notes that women are once again being legislated into second-class status:
[E]ducational gains plummet when girls hit secondary school, with just 4 percent of female students reaching 10th grade. Violence against women is endemic; women in public life are regularly threatened, and several have been assassinated.

Things got much worse recently when President Hamid Karzai officially promulgated legislation that would make the Taliban proud. Unfortunately, this is part of a pattern: As Karzai's government has grown weaker he has increasingly turned to some of society's most conservative elements for support.

The Shia Personal Status Law, the most egregious of a series of deals to appease fundamentalist religious leaders and former warlords, contains many provisions that are offensive to women. Custody rights are granted exclusively to fathers and grandfathers. A woman can leave the house without her husband's permission only if she has "reasonable legal reasons," which are unspecified. Yet the law does stipulate financial compensation to be paid by a man who rapes a child or a mentally ill woman, for her loss of virginity, while omitting any reference to a criminal punishment.
In Thailand, women are suffering at the brutal intersection of international capitalism, labor rights, and feminism. Tippimol Kiatwateerattana's innocently named article "Bra Story" actually paints a tale of horror and sacrifice for the women laboring in garment shops in Thailand:
"Too tight will not be beautiful, too loose is also not good. [The bra] must be well-balanced," Yeung told us briefly as she does not normally talk much. Her friend had to interrupt. "Difficult or not you can see from her fingers that are now in such a crooked shape. It took her a long time before she went to see the doctor".

The one who has just been teased confessed that she was scared that she might have to undergo surgery on her fingers. She was not scared because of pain but that somebody might steal her position while she recovered.

[...]

In a year, these three senior women hardly took any days off. Surin used the words "even when you are sick, you must drag yourself to work". For the best employee award, Thanyanun said that there was one time she woke up late and missed the bus from where she lived in faraway Rangsit. She had to take a taxi to Bangphli. "It cost more than my wages but I still had to come", she said.

Do you still wonder why these three women are so diligent? Why do they love their jobs this much? If a worker has taken no sick leave or any other kind of leave and never reported late for work, they can earn 1,200 baht or receive a yearly pension of around 450 baht. The amount is not actually worthwhile but it is a result of the time coupon system of work that the factory practices. [...]

The time coupon system basically means the worker's wage is paid according to the wholesale price of a finished product. Each assigned task will come with fixed amount of time its completion. "For example, if we are tasked to stick on 20 bows with a 20 minute coupon, that means we have to get it done within 20 minutes. Each day, we have to do the task at this rate for up to the 480 minutes they assign. If we cannot match the given amount of time, we will only get the minimum rate (355 baht per day). But if we can, they will count the excess time at 1.03 baht per minute," explained Boonrod Saiwong, Secretary-General of Triumph International Labour Union.

Workers who cannot finish the tasks within the fixed time get told off by the supervisor. At the same time, colleagues who are involved in the process will automatically put pressure on them too as the output of each worker also affect their work.

"So there is no surprise if you see some employees cry while sewing," said Thanyanun.
And in the Congo, one of the most widespread crimes of war is still occurring on a regular basis:

The conflict in eastern Congo is a toxic mix of jostling militias, ethnic tensions, greed for resource wealth, a tragic colonial history, a predatory army and opportunistic neighbors. Rape is commonly used as a weapon in this war. Although reliable statistics are difficult to come by, it's estimated that close to 200,000 women have been raped since the conflict began 13 years ago.

In a recent surge in violence, an estimated 3,500 women and girls have been raped since the beginning of the year. Men and boys also are increasingly victims of sexual assault.
In the mix of this outward misogyny, Hillary Clinton has decided to make a stand for the rights of women around the globe. News reports note with some surprise:
When Clinton ignored security advice and flew to Goma, in the east of the Democratic Republic of Congo, her focus on the region's rape crisis resonated with some of the continent's most powerless people: women.

It wasn't just that she was the first top-level American official to go to the epicenter of one of the world's deadliest wars, nor even the U.S. aid money she promised. It was her reaction to victims' stories of rape — and the hope that she might do something about it.
Today's Washington Post article on her journey further elaborates, saying:
It is striking how much time Clinton dedicates to women's events on her trips, even ones that receive little public attention. In South Africa, a clearly delighted Clinton spent 90 minutes at the housing project, twice as long as she met with South Africa's president. "It feeds my heart," she explained. "Which is really critical to me personally since a lot of what I do as secretary of state is very formalistic. It's meetings with other officials."
However, the tone of quite a few of these articles puts me off. As I read about Clinton's achievements overseas - her frequent mentioning of women's issues in her speeches, the increased application of aid to women in war-torn countries, her lobbying powerful friends to lend their clout to these causes, the rearranging of diplomatic priorities - I also note quite a few digs being published about Clinton's capacity to affect change.
Quotes from conservatives in the Post article help to cast doubts about what can actually be accomplished - and if the US should be focusing on the rights of women:
"It's great she's mentioning the issue," said Brett Schaefer, an Africa scholar at the Heritage Foundation. "As to whether her bringing it up will substantially improve the situation or treatment of women in Africa, frankly I doubt it."

Lawrence Wilkerson, who was chief of staff to Secretary of State Colin L. Powell, said that Clinton has to tread carefully in socially conservative regions, particularly those where the U.S. military is at war. "You might be right, in the narrow sense of women in that country or region need to be empowered, but you're saying something inimical to other U.S. interests," he said.
Right, because we can talk about women's rights when it's convenient to promote a war, but need to abandon it as an actual strategy.
It is also implied that adopting the fight for gender equality was really Hillary's way to get back at Washington:
Clinton's interest in global women's issues is deeply personal, a mission she adopted as first lady after the stinging defeat of her health-care reform effort in 1994. For months, she kept a low profile. Then, in September 1995, she addressed the U.N. women's conference in Beijing, strongly denouncing abuses of women's rights. Delegates jumped to their feet in applause.
And seemingly every article about her visit to the African continent has to include a paragraph like this:
Despite Clinton's efforts to spotlight women's issues, it was her own angry response to what she perceived as a sexist question at a town hall meeting in Congo that dominated American television coverage of her Africa trip. A student had asked for former president Bill Clinton's opinion on a local political issue — "through the mouth of Mrs. Clinton." Snapped Hillary Clinton: "My husband is not the secretary of state. I am."
Honestly, it feels like they are trying to undermine her efforts.
And it isn't just conservatives trivializing Clinton's efforts and accomplishments. As we wrote earlier, Tina Brown and Joe Scarborough seem to think Hillary should bow to their edicts on how to dress and behave before they will consider taking a serious look at what she is working on. And incessant focus on her physical appearance to the detriment of her message is a dilemma that Clinton knows all too well.
Sadly, it appears that to many that the idea of a politician caring about women's rights for more than political points is a joke, that a woman in a position of power cannot create change unless she is perfectly coiffed, and that some things (like military might) are worth more of a focus than others (ending a war through the populace).
To co-opt an old saying, women around the globe should be seen, but their issues should not be heard.

Why Girls Are Economically Challenged [Guardian]
Pakistan's Little Rock Nine [WMC]
For Afghan Women, Rights Again At Risk [Washington Post]
Bra Story [Prachatai]
Hillary Clinton's Stop In Congo Strikes A Chord In Africa [LA Times]
Clinton Puts Spotlight On Women's Issues [Washington Post]
Earlier: Tina Brown-Style "Tide Of Trivialization" Threatens To Swamp Clinton Trip
What's More Important: Rape In Congo Or Hillary's Bad Hair Day?