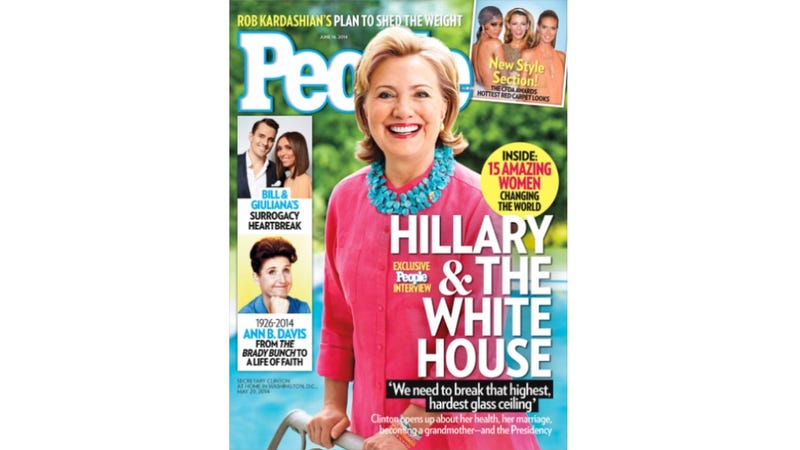 As part of the media blitz to promote her new book Hard Choices (side note: books by politicians all sound like they're parody titles used on Veep), Hillary Clinton has gone and put herself on the cover of People magazine. This might be the first time the phrase "glass ceiling" has ever been used on the cover of a celebrity weekly.
In a recent New Yorker piece, Ken Auletta posited that – as many have before – if Hillary "wants to be President she may have to find a new strategy for getting herself across the battlefield" than her previous "bunker mentality" utilized to deal with the political press. But coverage from entities like People doesn't scare her: In an excerpt online, Clinton yet again discusses the ongoing will-she, won't-she about her running for president, explaining yet again that she's enjoying living "in the moment" (and being a grandmother).
"At the same time I am concerned about what I see happening in the country and in the world," she added. Other things she's been doing with her free time: watching a lot of House of Cards; not reading Monica Lewinsky's Vanity Fair piece:-
"I think everybody needs to look to the future," Mrs. Clinton said.

And asked about published reports that she called Ms. Lewinsky a "narcissistic loony toon" after the affair became public, Mrs. Clinton said, "I'm not going to comment on what did and didn't happen."
Will comment on House of Cards; will not comment on her response to her husband's extramarital affairs. This is going to be a longgg campaign season.
Image via Stewart Shining/People