During the Politics and Eggs breakfast in Manchester, New Hampshire this Wednesday, presidential hopeful Hillary Clinton managed to yet again stand out against her fellow Democratic candidates, this time by coming out in support of the death penalty.
While Bernie Saunders, Martin O'Malley, and Ruth Bader Ginsburg (not a presidential candidate, but a moral compass of the left) have all called for the end of the death penalty, Clinton has taken a much more tactical and politically safe (read: craven) approach. She is for the death penalty, but only when the condemned really deserve it.
The New York Times' Amy Chozick reports:
"We have a lot of evidence now that the death penalty has been too frequently applied, and too often in a discriminatory way," she said. "So I think we have to take a hard look at it."

Mrs. Clinton added, "I do not favor abolishing it, however, because I do think there are certain egregious cases that still deserve the consideration of the death penalty, but I'd like to see those be very limited and rare, as opposed to what we've seen in most states."
According to Amnesty International, the death penalty in the U.S. is racially biased (murderers are more likely to be condemned to death if their victims are white), a huge waste of government funds, and ineffective in deterring people from crime. People executed are often mentally ill and many executed prisoners have later had their convictions overturned. In 2011, Troy Davis was murdered by the state of Georgia despite his probable innocence. Two-thirds of the world's countries have already abolished the death penalty and it is entirely illegal in the European Union. The majority of the world's executions take place in the United States, China, Yemen, North Korea, and Iran.
A recent string of botched executions has recently, as Chozick puts it, "put the issue back in the spotlight."
G/O Media may get a commission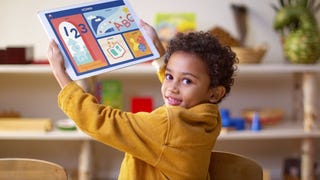 30-Day Free Trial
Homer Learn & Grow Program
Clinton is right in that "the death penalty has been too frequently applied, and too often in a discriminatory way." The only way to stop that from happening is to abolish it completely.

---
Contact the author at madeleine@jezebel.com.
Image via Getty.