High School Confidential, a new miniseries premiering on the WE Network tonight at 9, promises to document the myriad of issues facing today's teenage girls: Pregnancy, anorexia, divorce, even death. What separates this series from similar documentaries is that it follows a specific group of girls (in suburban Kansas) during all four years of high school, and features extensive interviews with both the teens and their families. Since most "reality" shows tend to focus on extremes, a program that presents life at face value sounds refreshing. But will it make for good TV? The critical reaction, after the jump.
Most of the episodes follow two subjects and end with their forced, pat self-appraisals. ("My name is Suzy and mine is a story of a girl who started freshman year confused and unsure of herself and four years later really found out who she was.") And while High School Confidential has its flaws — it is choppily edited and far too spare in its depictions of the girls living rather than talking — it does us a service by portraying teenagers beyond the media's typical parameters of exceptionalism.
Chronicled from 2002 through 2006, they grapple with what their parents did a generation ago: Should I go to college? Should I have sex? They also wrestle with other issues: Drugs and alcohol are readily available, after-school activities and sports consume much of their lives, and some people have sex as easily as people once changed dance partners.The teens profiled went to Northwest High School in Overland Park, Kan., and though one lives on a farm, the others are daughters of suburbia and could easily be anywhere.
G/O Media may get a commission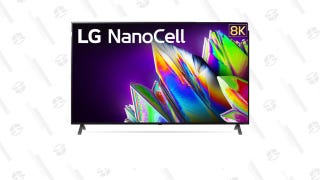 LG 75-Inch 8K TV
Somehow, even after following these girls from ninth through 12th grade, Confidential manages to make their stories boring. Watching it is like sitting next to your great-aunt as she flips through the family photo album. Individual pictures might grab you, but on the whole, you'd rather be cruising the mall. One wants to like these girls. They're forthright, articulate and darn cute with their straight long hair and braces that by junior year have disappeared, revealing perfect pearly whites. But they don't engage us, and that's not their fault. Their stories don't move us largely because of how they were shot and edited.
The premiere episode revolves around Lauren and Cappie. Lauren, the apple of her parents' eyes, is diagnosed with a brain tumor during her sophomore year. Cappie, the rebellious product of a broken family, veers off into a life of partying but has a change of heart.The series, from Liese's Herizon Prods. and New Line Television, is remarkable for the way it compresses time and hones in on pivotal moments. Even so, it might have been even stronger if Liese could have delved more deeply into these young lives so that we not only see the changes but also better understand, particularly in Cappie's case, how they came about.
Though the interview segments are sometimes compelling, High School Confidential tends to rely a little too much on talking-head footage of the girls and their parents.The show is often more interesting when it just shows the girls living their lives.
The trappings and small touches (such as the musical score) are, admittedly, a trifle soapy. Still, by choosing a heartland state and letting the girls and their parents speak naturally about what's transpiring, Liese and her collaborators convey the universal challenges of growing up — rites of passage that include concerns about sex, drugs and family issues, especially with divorce rates taking a toll on the traditional nuclear family. Given the ongoing culture wars, it's a timely reminder that such dilemmas are hardly confined to the big city.
High School Confidential [WE TV]