Some high school cheerleaders from Redlands, California may be in a lot of trouble after a photo of the young women dressed as gang members began circulating on social media yesterday. Some parents are outraged, while some are calling this a fun and harmless joke. Kids are kids, you know?
The photo itself is pretty disgusting, girls throwing gang signs and stuffing their shirts to look pregnant, but the fact that someone thought this was a good idea is even worse. And in a time when everything (everything) ends up on the internet, is the "teens be crazy" defense still something that holds up? Especially when those teens are posing with makeshift weapons and throwing gang signs?
The Redlands school district is investigating the photo and Superintendent Lori Rhodes issued the following statement about the incident:
"I find this picture offensive, and this type of depiction will not be tolerated. I apologize that any Redland USD student organization would be involved in an activity of this type.

"The circumstances surrounding the event and photo, including supervision, are being reviewed. We take this very seriously and I assure you that appropriate action will be taken once our review is completed.
"Team building exercises such as dress-up days are to build spirit and camaraderie in a positive manner. They should never demean, insult, or portray negative stereotypes, as done in this photo."
It's hard to tell what's worse: That the students came up with the photo themselves or that they had an adult helping (or at least encouraging them). Some parents who were interviewed by KTLA were just as outraged as Superintendent Rhodes, but at least one parent was totally cool with what went down. "I think they're just being teenagers, having fun, being silly," parent Sherry Garcia said. Because, you know, racist shit doesn't really matter as long as people are having fun, right? Sure, these young ladies parodied negative stereotypes and were hella disrespectful, but they had a good time and isn't the fact that they were making memories all that really counts? As one parent reluctant to jump to conclusions said: "We should know why they did it." There's gotta be a good reason to write "thug" on your stomach, right?
Some students are coming to the cheerleaders' defense saying that "these are nice girls, they're not racist or anything." Perhaps the school district could do with some education on racism, because yeah, dude, nice people are racist all the time.
G/O Media may get a commission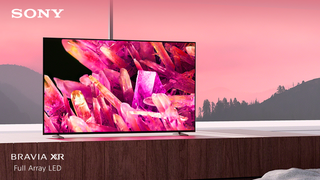 $400 off
Sony 55 Inch 4K Ultra HD TV X90K Series
Image via KTLA
H/T: Karen