In the midst of his otherwise terrifying ascent, sloshing styrofoam takeout container filled with three-day-old mac and cheese Donald Trump has a woman problem. While we explore the continuing mystery of why ladies don't want to vote for him, time for a reality TV flashback!
A mid-March poll found that about half of female voters have a "very unfavorable" view of the Republican frontrunner. Since then, things have somehow gotten worse, with a CNN poll released Thursday finding that a whopping 73 percent of registered female voters surveyed had an unfavorable view of the man. (Read the full poll here.)
While we recover from the tremendous shock that women aren't excited about Trump, in totally unrelated news, let's recall one of the less-explored chapters of his storied TV career, a never-made 2007 program called Lady or a Tramp. Trump pledged to personally troll nightclubs looking for "rude and crude" party girls to make over with his gently abrasive magic.
In numerous interviews, Trump described the show as sort of steel wool for the common slut, grinding away at them to reveal the acceptable lady beneath. A takeoff on a British show called Ladette to Lady, the show was to be produced by Trump and set to air on MTV. It was canny timing: this was just as the Paris Hilton/Nicole Richie fame rocket The Simple Life came to an end, when the public had grown tired of party girls and wanted to see them appropriately chastened.
"Rowdy female club-hoppers and their ilk will be sent to a charm school to undergo rigorous etiquette training," the New York Post reported at the time, with highlights including learning to "host teas" and "do needlepoint."
G/O Media may get a commission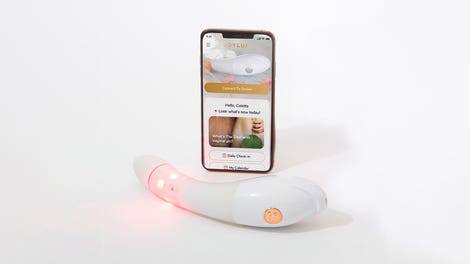 $50 Off
Joylux vFit Gold Device
Trump expressed an openness to hosting, time permitting, and said finding tramps to fit the bill would be simple:
"Lady or a Tramp" is being rushed into production so that it can be ready to air as early as midseason, according to Variety. "They want to start shooting almost immediately," Trump says.

So just how will Trump and company corral young partiers to appear on the show?

"I think it will be easy. You troll the clubs," Trump said. "I think, honestly, that's the best way.

"You take a girl and she becomes great, perhaps, or not so great."
He added, to the Washington Post, "Unfortunately, who knows that scene better than I do? Somebody's got to do it."
As he told Variety, the time had truly come for women to stop being such unrepentant party strumpets:
"We are all sick and tired of the glamorization of these out-of-control young women, so I have taken it upon myself to do something about it," Trump said. "I am creating a real-life version of 'My Fair Lady' with my company Trump Productions. This show is all about getting a second chance and transforming for the better; the idea is genius and the show will be huge."
Trump was eager to stock the show with people smack-dab in the middle of their 15 minutes, an "insider" told People, saying he'd approached Ashley Alexander Dupré, the woman at the center of the Eliot Spitzer prostitution scandal. (She doesn't appear to have responded.) A casting call asked for "rude and crude party girls" aged 18-30, who "love to party and are full of attitude."
Tragically, this exact concept didn't make it off the ground, although another Trump production, Pageant Place, featuring beauty queens living together, did air that year, and just quickly flamed out.
Eventually, a version of the show finally made it to air in 2009, with a new name and an even dumber concept: The Girls of Hedsor Hall, a one-season flop executive-produced by Trump, featuring bad girls not just made good, but shipped off to a British finishing school.
The show was hosted by former Miss USA Tara Conner, who Trump allowed to keep her crown in 2006 after a wide-ranging non-scandal that included allegations of "excessive drinking," cocaine use, and kissing Miss Teen USA Katie Blair. Conner was credited back in 2007 as the inspiration for Lady or a Tramp. At a press conference in January 2009, announcing Girls of Hedsor Hall, she wore a demure white suit and smiled prettily as Trump called Rosie O'Donnell a "disgusting pig" who would probably sexually exploit Conner. (O'Donnell objected to Conner keeping her crown.)
"I decided after meeting Tara to give her a second chance," Trump said. "And a disgusting pig named Rosie O'Donnell couldn't stand it. Couldn't stand it. She said, 'Who is he to give her a second chance? Now, Tara, I hate to tell you this, and for reasons you don't wanna know about, but Rosie would've given you a second, third and fourth chance, ok? And she would've loved every minute of it."
Anyway, it's a tremendous mystery why women might choose not to vote for Donald Trump. It's almost as though we're not stupid, and in possession of memories longer than that of a goldfish.
---
Trump and Conner in 2009. Photo via Getty Images