"My first thought was, 'She's crazy.' She was absolutely out of her gourd to call me. I had to ask twice if she had the wrong number. I asked her if she knows I openly hate the modeling industry...Excuse me while I stuff myself...I have bitten the hand that feeds me more than once. Did they want that on the show?" That's Paulina Porizkova, looking frighteningly awesome as she eats duck ravioli, salmon tartare, canapes and caramel crepes — she has a thing for caramels — on Page Six Magazine and talks about talking shit on Top Model. More quotes after you click the pic. Related: I actually remember seeing Her Alibi and was not aware it was a "box-office flop." News you can't use, but!
On how fashion is stupid, even though Linda Evangelista adamantly seems to believe it is not.

Modeling is just showing up and putting on clothes. I was beaten up in school and had paint poured over my head. I was tall and gawky and lost. I didn't know the language very well—that made me a target...I may not have loved it, but I'm not stupid. What other job could I have pursued where I could make $10,000 a day with no education? By the time I was working on Estee I had this problem where I would get physically ill before work every day. I would feel like I was going to vomit, and then I would call in sick and suddenly feel fine. That'w when I knew there was something psychosomatic going on. I hated it...I showed up to work on time and that was my orte. I wasn't interested in fashion like the Holy Trinity — Naomi Campbell, Christy Turlington and Linda Evangelista. They thought modeling was an art form. When you watch Linda work, you can feel like her bones are cracking — it's almost alien. I never thought matching my handbag to my shoes was all that important.
On how you should spend more time with your husband and kids but never own up to that publicly!

I never fear three-way love situations. Every party had a hand in it. I feel perfectly fine about being a homewrecker, especially since I've ended up being married to him twice as long as he was married to her. Making each other a number-one priority. So we don't have glorious careers, but we have a glorious marriage. I think it's so sad when women say, 'Oh, I've been spending my last few years being a mom.' It's like, you were someone before you had children, and you aer sure as hell going to need to be someone afterward. Being a mother is something I do daily, like showering or eating. It's not my career.
G/O Media may get a commission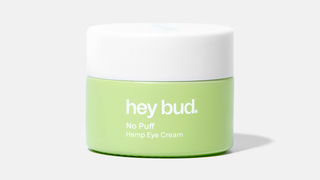 15% off
Hey Bud - No Puff Hemp Eye Cream
On her abortive attempt to Dance with the Stars!

I was the first to be sent home. I sat in my hotel room in LA and ate caramels for a week, until my family had to drag me out of bed. I should have guessed: I look like a giraffe on crack when I try to dance.