A transexual woman was cited for "disorderly conduct" for using the women's restroom at a Dallas-area hospital, even though she offered to show the officer medical documentation and there was no one in the bathroom for her to be "disorderly" with.
"It was definitely humiliating, degrading," Paula Witherspoon, whose legal name is Paul, told NBC. "I felt like I was being discriminated against." (Because you were, Paula.)
Witherspoon said she didn't even notice that anyone else was in the Parkland Memorial Hospital restroom until she walked out, after which a lady said, "there's a man." (Witherspoon clearly looks like someone who wants to be viewed as a woman, so that "lady" is an asshole.) Soon after, she was approached by a Parkland officer, who refused to look at the transition letter from her doctor that states, "She is expected to use facilities consistent with her external presentation, which is female" since her license says she is male.
View more videos at: http://nbcdfw.com.
Texas is not one of the very few states with specific laws meant to protect transgender people from being required to "prove" they can use gender-segregated facilities, but still, under Texas law, Witherspoon must have acted "intentionally or knowingly for a lewd or unlawful purpose" to be cited with disorderly conduct. Clearly, Witherspoon, who didn't even see anyone else in the bathroom, was just trying to pee.
G/O Media may get a commission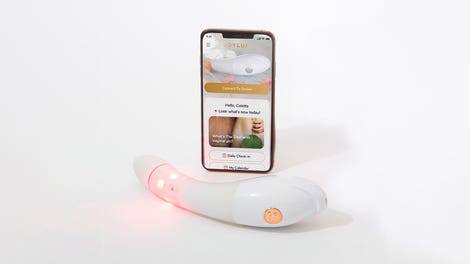 $50 Off
Joylux vFit Gold Device
Parkland issued a lame statement saying the incident was under review because of its "complexity": "Parkland strives to treat patients, visitors and staff with dignity and respect, as well as provide a safe environment at all times." The hospital has a beyond horrible track record of dealing with its mistakes. In 2010, dozens of female patients received letters notifying them that they may have been exposed to dirty speculums and that they should abstain from sex or use condoms to prevent infecting their partner. Another letter coldly informed women, that — oops! — their babies might be sick with HIV or Hepatitis, due to some more dirty equipment. No biggie!
Given that an impersonal letter saying "We would like to evaluate you and your baby for signs of infection ...We extend our sincere apology and hope to maintain the trust and confidence you have in Parkland" is the very best the hospital could come up with in terms of apologizing for possibly infecting dozens of women, their partners, and their babies, we don't have high hopes this time around. However, Roberto de la Cruz, an openly gay member of Parkland's Board of Managers, said he plans to meet with Witherspoon to apologize personally for the hospital's actions. It'll be interesting to see if other board members and hospital officials follow suit.
Transexual and transgendered women often have difficulties with law enforcement while they're trying to do their business in the bathroom. Last year, a transgender women was banned for life from The Cosmopolitan casino in Las Vegas from using a women's bathroom because her ID listed her as legally male. (The casino also insinuated that she was a sex worker right off the bat.) In 2010, a transgender woman was arrested for entering the women's bathroom at Houston library. Apparently, it doesn't matter whether a trans women wants to read, gamble, or go to the doctor: society is afraid they'll dirty up the lady toilets. Maybe if more than a handful of states had anti-discrimination laws that specifically dealt with gender identity, things would actually change. Until then, women like Witherspoon will likely continue to be publicly and completely unnecessarily humiliated.
Transsexual Woman Ticketed for Using Ladies Room [NBC]
Image via McGovern Library.