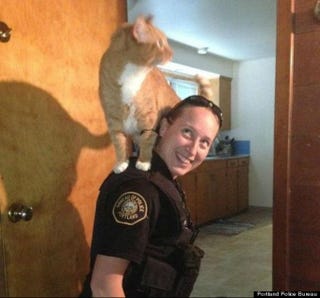 A police officer responding to a burglary wound up lending a helping hand to a curious cat found at the scene.
When officers in Portland arrived at the scene of a reported burglary, an orange tabby got a little too close to the action for its own good (because as we know cats never ever ever ever ever go where you don't want them to go). Via Huffington Post:
Sgt. Pete Simpson says police were called Monday afternoon when a woman returned home from work to find her house burglarized. When police entered the home to search for a suspect, Officer Sarah Kerwin noted broken glass on the floors of the basement and a bathroom.

Because the resident cat was walking around on the floor, the officer picked up the cat to make sure it didn't step in the glass. The cat happily climbed onto Kerwin's shoulders and stayed there as police finished searching the house.
I know this looks like a simple act of human kindness extended to a helpless animal. But I have obtained the secret transcripts of what the cat actually had to say to the officer during this event and it paints a very different picture:
"DON'T JUST STAND THERE, YOU SCRAWNY MORTAL! I DEMAND TO CARRIED ACROSS THIS TREACHEROUS PATH OF BROKEN GLASS. WAIT—ARE YOU TRYING TO CLASP ON TO ME? HOW DARE YOU! DO YOU NOT KNOW WHO I AM? I SHALL PERCH UPON YOUR SHOULDERS LEST YOUR SWEATY PALMS DISTURB MY PERFECTLY GROOMED FUR. NOW WALK, HUMAN. WALK ME TO FOOD RECEPTACLES SO THAT I MAY FEAST AND RECUPERATE FROM THIS HARROWING TRAUMA."
Don't let it get to you, brave officer Kerwin. Today you are a hero to all cats and humans.
Image via Portland Police.