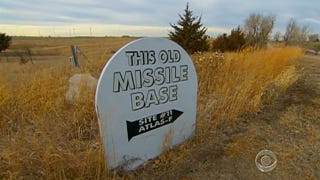 If you're one of those people who lives in constant fear of the outside world, this might be the ideal place for you to live! It's a condo complex that's built into a former nuclear missile silo in the middle of Kansas. That's about as secure as it gets. According to CBS News, "It's the only condo in the world capable of withstanding a direct nuclear attack." Well, that's a relief.
Once the nuclear apocalypse comes, you don't have to worry about going outside, because the condo complex is completely self-sustaining. There's even a general store inside, so you can continue experiencing the thrill of shopping once the rest of humanity has melted away. Even if the basic idea is pretty dark and the location somewhat isolating, the units do look kind of cool. They've even got fancy electronic windows that track your movement and show you images of the outside world that match up to where you're looking—so you can have any view you like, from San Francisco to outer space. That should come in handy in terms of keeping you sane once the planet is a vast wasteland of glowing mud.
The developer of the condos, Larry Hall, is certain an apocalyptic event could happen at anytime. (It is 2012, after all!) But he suggests you don't wait until it's too late to invest. If you want safe haven in his building, you'd better buy now. Only two of the six units have sold; so the gettin' is still good.