Since remarking in February that the Girl Scouts of the USA were a subversive group of commies and abortionists, Indiana legislator Bob Morris of
Fort Wayne has received only one campaign donation. This is a great example of why you do not fuck with the Girl Scouts — they will bleed you dry while singing campfire songs and teaching girls everywhere important life skills. And afterwards, they'll get a "VANQUISHING POLITICAL ENEMY" merit badge.
Morris made himself a laughingstock and endangered the integrity of his finger joints earlier this year, when he wrote in a hilarious letter to the Journal Gazette that he believes the Girl Scouts to be a "tactical arm of Planned Parenthood" designed to sexualize young girls, priming them for the abortion-fruitful adulthood enjoyed by most educated and self-reliant American women. He also claims that "internet research" taught him that the Girl Scouts promote the "homosexual agenda" (Item 1: Softball! Item 2: Rug munching! Item 3: Pro-Roe Macrame!) and allow transgender girls to participate in activities just like "a real girl." Then he voiced his opposition to a resolution recognizing the Girl Scouts' 100th anniversary. Just like a "real legislator."
According to the Journal Gazette, since that blockbuster of a letter, he's secured but a single campaign contribution, and that contribution didn't even come from a real person. The Northeast Indiana PAC for Better Government gave Morris $5,000 on April 10th, a week and a half after the expiration of the fiscal quarter, which means that he didn't raise any money at all between February and April. He's being challenged for reelection in the fall.
Morris should've seen this coming. As the Girl Scout song goes, "Make new friends, but bury your enemies. One is silver and the other is blood..
G/O Media may get a commission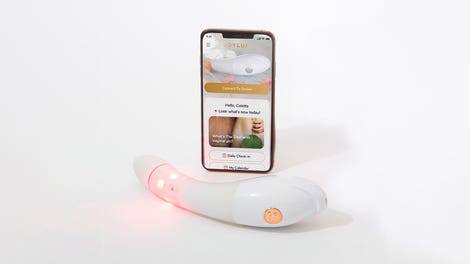 $50 Off
Joylux vFit Gold Device
Thin mints in, thin mints out, Morris. That's the way the cookie crumbles.