Here he is. The future King of England and most precious baby in all of the world. "He's got [Kate's] looks, thankfully," Prince William told press outside of Saint Mary's Hospital. The couple, looking very sweet and nervous as new parents, described the birth as "very emotional." They will not be announcing the name today and look forward to spending time with their newborn alone.
---
UPDATE: Footage of the Royal Baby's first appearance from a different angle.
---
UPDATE: Is the Royal Baby PART MUMMY????
Image via AP.
---
UPDATE: This gif.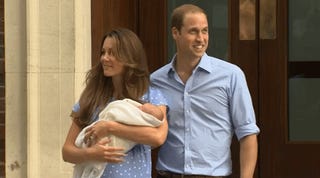 Via Dianna McDougall.
---
UPDATE: Both Kate Middleton and Princess Diana wore polka dots. WHAT DOES IT MEAN?
Images via AP.
---
UPDATE: Here's Prince William loading up the car seat and driving his new baby away from the hospital like they're a family of commoners or something. According to CNN, William's willingness to co-parent is a sign of the new modern monarchy. Can a monarchy ever really be modern? Discuss.
(I'm acting like I'm above this, but new parents make my heart melt.)
---
UPDATE: I went to the future and brought back this photo of the Royal Baby as a teenager:
OH, NOOOOOOOOOOOOOOOOOO.
---
UPDATE: Pervert.
---
UPDATE: Victoria Arbiter wants to make it very clear how COOL she thinks it would be had the baby been a girl. (Nice save. I don't think anyone noticed.)
---
UPDATE: Aw! Look at that tiny wrinkle face! Babies are so cute, guys.
Image via Getty.
---
UPDATE: Kermit and Miss Piggy, Royal Couple of Our Hearts and Minds, send their congratulations.