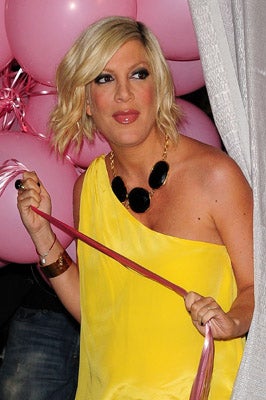 Tori Spelling: Dislikes her mom, played a virgin on a teen soap, made a lot of money, blew it all with a shopping addiction, got married, had a baby, got pregnant again, and then wrote a memoir! That memoir, sTORItelling, was feted at a party at the Kitson store in Los Angeles last night, and the clothes on display were as painful as the title of the tome itself. In attendance: Tori and hubby Dean McDermott, the Kardashian girls, Bobby Trendy, and Bobby Brady and Adrienne Curry. No, seriously. The Good, the Bad, and the Ugly, after the jump.
The Good: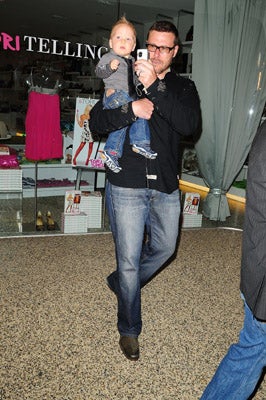 Ok, we're going to have to award Best Dressed to a baby, Tori's son, Liam McDermott. Though I don't think I'm okay with a baby wearing a tie, he is still better dressed than anyone here, except for maybe his dad.
The Bad: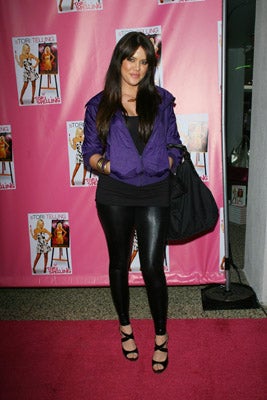 Is Khloe Kardashian trying to supplant sister Kim as trashiest member of the clan? Note to self: Remember the other Jezebels and do not buy shiny leggings from American Apparel.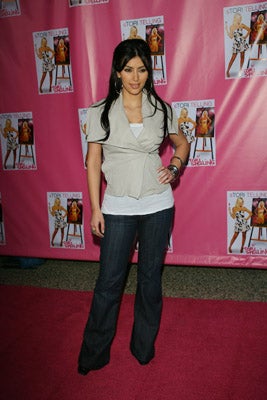 Meanwhile Kim Kardashian channels a suburban mom who is still trying to dress "hip"? A suburban teen who's trying to dress "mature"? Oy.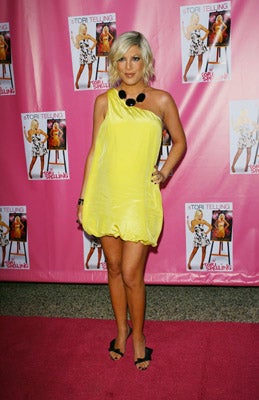 And then there's Tori herself. Sure, she's pregnant and all — but that's never an excuse for wearing a one-shouldered, bubble-hem dress.
The Ugly: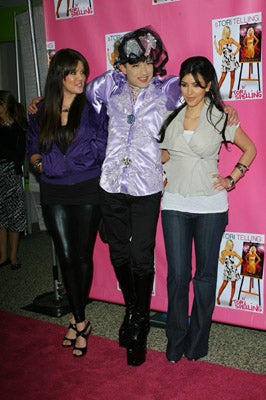 Is the existence of Bobby Trendy a sign that is there is no God? Or that there is one?
[Images via FilmMagic.]