Next time you find yourself in a possibly fatal situation where you have to throw up, don't reach for the ipecac. Instead, simply drag your ailing body to the nearest computer and watch this clip of withered corpse Doug Hutchison talking about falling in love with his then-16-year-old wife, Courtney Stodden.
As you may recall, Doug and Courtney found themselves at the center of a media firestorm of their own making when, in 2011, Doug, a 50-year-old C list actor, publicly announced that he was taking a teen bride.
Since then, the pair have been in and out of the tabloids: They gave a repulsive interview to ABC News during which Courtney looked at Doug like she was going to eat him, they got a dog and named it "Dourtney" (which is the perfect name for what was likely the perfect dog), they broke up, they made up, a pornographic video of Courtney eating an ice cream cone was "leaked," singles were released, and so on. Now, Courtney is on Lifetime's The Mother/Daughter Experiment with her mom Krista, who Courtney says is in love with Doug. Classic American family, in other words.
In the latest episode of The Mother/Daughter Experiment, a "therapy" show in which "celebrity" mothers and daughters "work out" their issues by screaming and conniving against each other, Courtney surprised her mom with an appearance by her old-ass husband. This was nice (and by nice, I mean DISGUSTING) because the rest of the mothers and daughters got to sit down with Doug and get to know him.
Telling the romantic (and by romantic, I mean DISGUSTING) story of how he and Courtney fell in love, Doug recalled, "I had a really frank talk with Krista and I said, 'Listen, I don't know if you know what's going on here, but your daughter and I are falling for each other,' and Krista said, 'You're a good person and I don't have any problem with you and Courtney continuing to explore this together.'"
He adds, "Courtney was being courted by tons of men, closer to her age, wealthier than me, more, famous. From sports figures to politicians to sheiks in the Middle East."
G/O Media may get a commission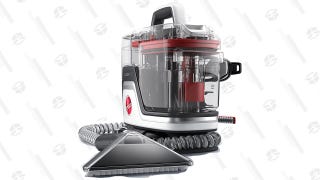 Save $10
Hoover CleanSlate Plus Carpet & Upholstery Cleaner
First of all, I want to see the receipts. Secondly, no response written by me could possibly be better than the reactions of the other people in the room.
Natalie Nunn, former cast member of Lifetime's Bad Girls Club deserves an award based solely on her facial expressions:
Yep, those are the faces of people hearing the most romantic story of our time.
Before you go toss your lunch, please take a second to say a prayer for this poor dog (NOT Dourtney). It asked for none of this.