This raging carnival of an election cycle has provided endless fodder for creative takes, from fan fiction to outsider art. America's latest addition to this inspiring shitshow comes from jazz pianist Marcus Roberts (and his Sextet), who was so inspired by the candidates he has composed a song for each of them, interpreting the sound of their campaigns on his album Race for the White House.
In an interview with NPR, in which he premiered his Trump-inspired number "Making America Great Again (All By Myself)," Roberts says:
"It's almost like you have to get into other people's experiences so that they can see their experience in you, and vice-versa," he says. "And I think that's a very important component of what's going on right now in America. I think everybody wants to feel like they're being understood and related to, as opposed to preached to or told what they should think."
Of the Trump number, Roberts told NPR the song "symbolizes Donald just looking over his vast estate and just chilling and just having a great time. And then the trumpet interrupts him just to make a bold statement of, 'I'm going to make America great again, all by myself.'"
I can't help but apply my own "All By Myself" association to Trump's campaign—the sad 1975 version by Eric Carmen, as the Celine Dion cover is too powerful—but Roberts captured the autonomy that Trump grabs by the balls on a daily basis. Can you imagine a instrument that could better interpret Trump's bleating than the trumpet? (Well—maybe a foghorn.) But Roberts knows from instruments, and this little piano jaunt does conjure a dude in a suit strutting around the Ritz Carlton telling people to do things for him—until about 1:04, when some dissonant notes sound like the perfectly scrambled contents of Trump's brain.
G/O Media may get a commission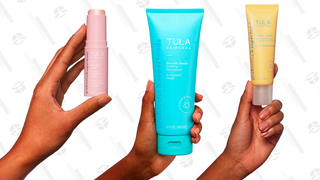 In "Feel the Bern," Roberts slides in with a sneaky little motor rhythm that fans out into wily horn interludes, and makes Bernie Sanders sound really cool. The velocity and propulsion of it, I suspect, is meant to convey his on-the-ground, grassroots supporters. That drum solo around 2:30 is symbolic disruption.
Finally, in Roberts's piece for Hillary Clinton, "It's My Turn," he translates her years-long Presidential aspirations to a minor-key, steady determination with a smart, sophisticated slow-burner. "This piece also represents the complexity and intrigue that has surrounded Hillary Clinton since the 1990s," writes Roberts. "It has meter and rhythmic changes, alternates between minor and major key centers, and is cool, calculated, but ultimately quite soulful, melodic, and expressive."
There's also another track about Ben Carson, which I hope is a 35-minute-long free jazz doodle. It's called "I Did Chop Down That Cherry Tree."
---
Contact the author at julianne@jezebel.com.
Image via Marcus Roberts.