At long last, the trailer for TNT's Will has arrived. The show follows the "punk rock" 20s of the great playwright and stars an entire thrift store's worth of vintage leather jackets. It looks bonkers and ridiculous and I can't wait to binge-watch it at some point while home with the flu.
Recent Video
This browser does not support the video element.
"Money! Power! Greatness!" chants a slim young man with long hair and a bunch of clavicle tattoos.
G/O Media may get a commission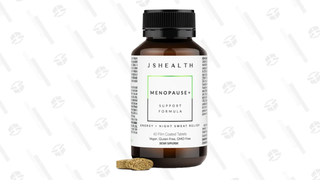 Save 20%
JSHealth Menopause+ Vitamins
"You plan to write a play about the most dangerous man in England?" demands another weirdly glowing and healthy young man wearing a leather jacket featuring leopard print labels.
"You can't just MAKE UP WORDS!" yells yet another frustrated rival. "But I'm William Shakespeare!!!!" the trailer practically shouts in a drug-dusted creative fervor.
Look, he is wearing an earring.
When will somebody make this show but about Restoration England, specifically Charles II and his scads of mistresses? Now there's a group that deserves the sex, drugs, and rock and roll treatment.