Heidi Klum is on the new cover of Allure. Inside, she poses nude and talks about plastic surgery — which she says she disapproves of. "I don't want to name names, but it's like, wow, I remember you five years ago, looking to me so beautiful, and now it's like…who is this person? And I know girls half my age who do it. What are they gonna do at 40 or 50, when the shit really hits the fan?" Naturally, the ladymag pressed her to address her pending divorce, after seven years of marriage, from Seal. "Sometimes life throws you a curveball, and then you just figure it out and deal with it," says the supermodel, "but my dream always was that — to have the perfect family and have lots of children and a beautiful garden and trampolines and swings and things. I had dreams of how I wanted things to be and planned for things and, as we all know today, they don't always turn out as you dreamt them in your head." [Daily Mail]
Klum says she learned everything she needed to know about blow jobs (which Allure, for some reason, calls "blowies") from gay men:
She explained the importance of gay men in her life: "They are like this kaleidoscope of interesting thoughts and opinions. They teach you so many things about men that are useful." "Like what?" our reporter asked. Klum paused, and then made the universal tounge-moving-rapidly-in-cheek motion that signifies blowies. She explained what she's learned (off the record, of course), and our reporter said she discovered two things: 1) Everything sounds authoritative when said in a German accent, and 2) Seal was a lucky guy.
Far be it from Heidi Klum to suggest she's a blow job expert, but... [Allure]
---
Miranda Kerr is now in three dimensions on some Reebok billboards in Germany. [Daily Mail]
---
G/O Media may get a commission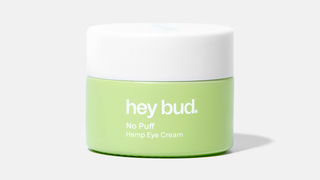 15% off
Hey Bud - No Puff Hemp Eye Cream
For anyone who's ever wondered why Ralph Lauren polo shirts have horses the size of large rats embroidered on them, Ralph has a master plan. [9gag.com]
---
Oscar de la Renta live-Pinterest-ed its bridal show yesterday. Of course. [Pinterest]
---
Daphne Selfe is 83 years old and still modeling. We hope she's BFFs with Carmen Dell'Orefice and they meet regularly for afternoon tea. [Daily Mail]
---
A show of Kate Moss, Erin O'Connor, Heidi Klum, and Helena Christensen photographs by Rankin, helpfully titled "Contains Nudity," is now open in Los Angeles. [DFR]
---
Karl Lagerfeld shot Linda Evangelista for the new Chanel eyewear campaign. [Fashionista]
---
Nicki Minaj will soon be bottled for your smelling pleasure: the singer signed a perfume deal with the same company that does Justin Bieber's sales-record-breaking Someday. [WWD]

Yes, of course there is a YouTube community of men who make haul videos about their favorite perfumes. Yes, they call themselves the Goodsmellas. Yes, one is an emergency worker who lost his sense of smell for two years following 9/11, and now owns over 200 bottles of cologne. And yes, you will need to watch all of their videos. [Racked]

Karl Lagerfeld says that designers are always less important than the brands they work for. "The name of a designer next to the name of the label imposed by the designer for the press etc., is something I am very much against. Chanel is Chanel. Fendi is Fendi. It's my job to do the image of the companies, and not go on an ego trip." [WWD]

The National Resources Defense Council has launched a program called Clean by Design, which focuses on the environmental impacts of fashion and associated industries, like textile manufacturing. Vogue and Council of Fashion Designers of America president Diane von Furstenberg showed up to the launch. The NRDC points out that switching to less resource-intensive manufacturing processes often saves money. [WWD]

Vogue Paris just launched an English version of its Web site. Recent-ish-ly installed editor Emmanuelle Alt seems to be pushing the Web, in contrast to her predecessor, Carine Roitfeld; she also oversaw a full redesign. [Vogue.fr]

Model Tatiana Krasikova grew up in Omsk, Russia. "There weren't really a lot of opportunities, but I was in the park one day with my friend and a scout approached me. Two weeks later I was in Tokyo. I never thought I'd leave Russia; I mean, we didn't even have enough money to go visit Moscow because it was too expensive. And now I was in Japan! It completely changed my life." [WWD]

Australian model Julia Nobis calls the month after fashion month Get Fat Month: "I just lay on my couch and eat Hershey's Cookies 'n' Cream bars and Ferrero Rochers." She says this season the stick-on crystal eyebrows at the Chanel show cost €200 apiece, and that at Alexander McQueen, all the models "were just standing around these fans backstage trying not to pass out." Nobis explains: "I had one of the big fur coats that had like five different types of animals in it. Then you've got a half-corset underneath and a tight belt so you can't breathe; you're overheating and you're exhausted." [WWD]

Kyle Anderson, accessories director at Marie Claire, spent a modest $822.50 this weekend on Starbucks, Thai food, and Givenchy. That brings his running total weekend spending, as chronicled by Anderson at Daily Front Row, to $52,130.82. [DFR]

Hermès is still fending off Louis Vuitton Moët Hennessy's hostile overtures. The company — which is publicly traded but still family owned — already grouped 50.15% of its shares in a nonlisted holding company. Now it plans to make a statutory change at its next annual general meeting to require all shareholders with more than 0.5% stakes to register their shares in their names. That will prevent any entity doing what LVMH did — quietly acquiring 22.3% of Hermès on the stock market, without disclosing the purchases until they had been made. [WWD]

The U.S. private-equity firm TA Associates is buying a 30% stake in Zadig & Voltaire for $235 million. [WWD]

Patti Smith and Steven Sebring made a video about a Reed Krakoff handbag. [Nowness]

Burberry's sales rose 17.1%, to $1.61 billion, during the first six months of the fiscal year, compared with the same period one year ago. [WWD]

Annie Leibovitz is set to receive a Clio award. [WWD]

And now, a moment with Karlie Kloss. Karlie, what is the best piece of advice a designer ever gave you?

"Alexander McQueen once told me before I went out on the runway (I was wearing a dress that was very long and difficult to walk in, and I was concerned the dress was going to get caught on my shoe), 'Don't worry, Karlie; if it does, just take it off and throw it, throw the dress. Remember—YOU own the dress, the dress does not own you!'"

[Vogue]