Hell hath no fury like a stripper scorned. Rock of Love runner-up Heather has written on her Myspace blog about how last night's finale did not rock her world, and that there was blatant manipulation in editing throughout the episode, particularly during the elimination. Bret was shown asking Jes and Heather if they'd be willing to both be his girlfriends and share him, with Heather replying, "I would love to," and Jes saying no. But on her blog, Heather says that's not the way it really went down (misspellings hers):
I ABSOLUTELY, 100% DID NOT SAY I WOULD SHARE HIM. WE BOTH SAID NO... THAT WAS EDITED AND I AM SOOOO APPALLED BY THAT—AS IF THE STIPPER THING WASNT ENOUGH, (WHICH I QUIT DOING MONTHS AGO)—OR PRETTY MUCH NEVER SHOWING ONE BAD THING ABOUT JESS, I GOT RAN THROUGH THE COALS.
But wait, there's more!
Bret kept threatening to go into diabetic shock on last night's episode, and felt that Heather wasn't sympathetic enough, which he said was what helped him make his final decision. However, Heather said it wasn't like that at all:
IT JUST BREAKS MY HEART THAT THE EDITING MAKES ME LOOK SO INSENSITVE. ON OUR DATE IN CABO WHEN HE SAID HE WASNT FEELING WELL WE STOPPED AND I WENT AND GOT HIM SOME WATER...IT WAS HIM WHO WANTED TO KEEP RIDING TO GET ALL DIFFERENT CAMERA ANGLES. I WAS FULL OF SAND AND WOULD HAVE LOVED TO JUST CHILL ON THE BEACH IN THE FIRST PLACE.
Also, like many women who've been unfairly dumped, Heather is pissed about the money she spent on Bret. [Jesus, does she have to write in all-caps? -Ed.]
U GUYS DID NOT SEE WHEN I WOULD MAKE HIM BREAKFAST IN BED OR WHEN I BOUGHT HIM BALLONS AND ROSES ON HIS BDAY.. I WENT SHOPPING FOR HIM AND HIS KIDS IN CABO AND ACTUALLY SPENT OVER 1000 THROUGHOUT THAT MONTH.
G/O Media may get a commission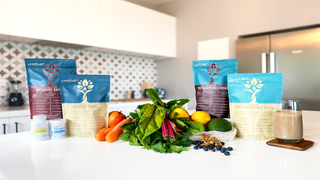 Strangely, she doesn't express regret about that tattoo of his name she got on her neck.
The Truth About the Final Episode [Myspace]