In a surprising development (at least it's surprising for those who didn't catch wind of the "reorganizing" Hearst did last week), Hearst announced Monday that they were giving Cosmopolitan editor Joanna Coles an additional job: she's now also editorial director of Seventeen, a change Hearst says is part of their attempt to grow their "audience of millennial women" by merging Cosmo and Seventeen into one "group."
Coles wasn't the only one to get a new gig; her promotion comes alongside that of Senior Vice President/Publishing Director Donna Kalajian Lagani, who is now specifically focused on marketing and publishing for Seventeen, in addition to her work at Cosmo. There were also a few other shifts on the business side among the women's publications owned by Hearst, making it clear that Cosmo and Seventeen are definitely now in this together. (Please note that Elle and Marie Claire have been left out of the party, while Redbook and Woman's Day had their own less-promising merging of staffs in recent months.)
Additionally, current Seventeen editor Ann Shoket is also leaving the publication, though she is consulting on "new product development" for Hearst. A new editor for the teen mag has not been named, but Coles's promotion brings one step closer to being Hearst's own Anna Wintour.
"Joanna and Donna are the ultimate dream team, and they've taken Cosmopolitan to new heights, across multiple platforms—print, digital, e-editions, social media, consumer products, and soon, live events," Hearst Magazines President David Carey said in a statement. "Like Cosmo, Seventeen speaks to an audience of millennial women, and while their readers are at very different life stages, they share a love of style and entertainment and value independence and equality. Both brands enjoy strong advertising support from a similar group of national marketers across a range of categories as well. Joanna will work with Seventeen's editors, and Donna with the sales and marketing teams, to further cement its place as the No. 1 teen magazine media brand in the country."
G/O Media may get a commission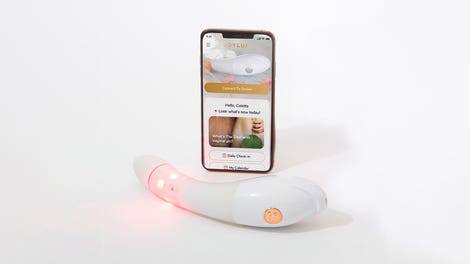 $50 Off
Joylux vFit Gold Device
The rest of the press release includes buzzwords like "social media platforms" and "emerging technology." It also describes Seventeen as "the champion of Girl Power: – which might remind you of the days of Cosmo's own teen girl publication, CosmoGirl – and Cosmo as "the ultimate, empowering monthly guide for young women leading full lives."
If you're the type who believes in weird coincidental media forebodings, well, there was one for all this "empowering" "Girl Power" change. On Friday, famed Hearst editor John Carter Mack died at the age of 86. Mack has the honor of having edited McCall's, Ladies' Home Journal AND Good Housekeeping and is perhaps best known in history for being the editor of LHJ when the Ladies' Home Journal protest took place. As Hearst quite fondly remembers it:
In the early 1970s, a group of women stormed Carter's office at Ladies' Home Journal, holding him hostage for 11 hours as they demanded and negotiated changes in the magazine. The event garnered national media attention and Carter responded by taking magazines in a direction that reflected women's changing roles and needs.

"There was more discrimination than I thought," he later said. "I didn't push our women readers far enough in their self-awareness." In another interview he stated, "Power is the big issue that divides men and women. Men hold power, women want power, but men are reluctant to give it—any of it—away." His magazines reflected his ever-evolving consciousness, and he became one of the first male members of the Association for Women in Communications. He remained an advocate for women for the rest of his career, speaking out on issues ranging from equal rights to sexual harassment.
Ah the halcyon days before everything was #feminism #girlpower #change #womensrights #millennialreaderswhoareyoungwomen. Remember when.
Images via Seventeen and Cosmopolitan