The battle over weight discrimination has hit Capitol Hill, with fat acceptance activists like Marilyn Wann (pictured) and Lynn McAfee facing off with insurance lobbyists and lawmakers. Specifically targeted? The health care industry's policy of denying coverage based on weight.
Ana Gasteyer Satirizes the Girl Boss in 'American Auto'
Reports the Times:
[Wann's] has been an oft-repeated message this summer and fall by members of the "fat pride" community, given that the nation is in the midst of a debate about health care. That debate has, sometimes awkwardly, focused its attention on the growing population of overweight and obese Americans with unambiguous overtones: fat people should lose weight, for the good of us all.

Heavier Americans are pushing back now with newfound vigor in the policy debate, lobbying legislators and trying to move public opinion to recognize their point of view: that thin does not necessarily equal fit, and that people can be healthy at any size.
It's kind of thrilling that the concept of HAES (Health at Every Size) actually got covered in the New York Times. However, much of the article revolves around the basic arguments for and against fat acceptance, and only devotes a slim paragraph to some of the political ramifications involved with these types of size based mandates:
Extra weight brings with it an increased risk of chronic disease, medical experts say, and heavier people tend to have medical costs that are substantially higher than their leaner counterparts. As a result, Congress is considering proposals in the effort to overhaul health care that would make it easier for employers to use financial rewards or penalties to promote healthy behavior by employees, like weight loss.
G/O Media may get a commission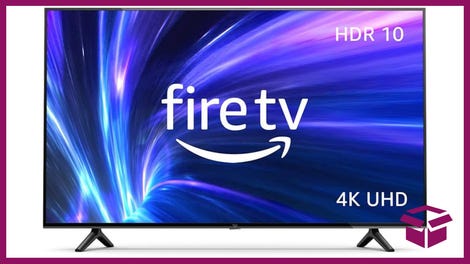 42% Off
Amazon Fire TV 50" 4K Smart TV
That says clusterfuck all over it. So now my employer gets to help police my weight? Nice. I mean, it would be cool to have my gym memberships and yoga class passes comped, but I'm not sure how they would measure progress. Are they going to start calling studios to see if I attended class twice that week? Or tie my performance evaluation or benefits package to the number on the scale?
Japan started a nationwide health program back in 2008, with the dramatic imposition of government recommended limits on weight:
Under a national law that came into effect two months ago, companies and local governments must now measure the waistlines of Japanese people between the ages of 40 and 74 as part of their annual checkups. That represents more than 56 million waistlines, or about 44 percent of the entire population.

Those exceeding government limits - 33.5 inches for men and 35.4 inches for women, which are identical to thresholds established in 2005 for Japan by the International Diabetes Federation as an easy guideline for identifying health risks - and having a weight-related ailment will be given dieting guidance if after three months they do not lose weight. If necessary, those people will be steered toward further re-education after six more months.

To reach its goals of shrinking the overweight population by 10 percent over the next four years and 25 percent over the next seven years, the government will impose financial penalties on companies and local governments that fail to meet specific targets. The country's Ministry of Health argues that the campaign will keep the spread of diseases like diabetes and strokes in check.
Think about the ramifications of these ideas for a moment. I've already felt some of this personally, when my former insurer sent me a letter, notifying me that I was over the maximum acceptable BMI for my height and weight, and, as a result they were raising my premiums by $45 a month. They did all this before they consulted my primary care physician about my blood pressure (which is on the low end of normal), my exercise routine (adopted under recommendation of said physician) or asking for her prognosis (that I have a clean bill of health, and have always been on the higher end of the acceptable BMI.) When I sent letters about this, I was informed that they would reconsider after my weight levels dropped and I provided proof from my physician. Thinking of how this type of corporate/bureaucratic override of a doctor's assessment could be applied on a wider scale is frightening. Regardless of patients' actual health, they can be charged a higher premium for being over a pre-determined average. And if they can charge higher premiums for weight without any proof of impact on a patient's health, what's next?
Heavier Americans Push Back on Health Debate [NY Times]
Health at Every Size [Wikipedia]
Japan, Seeking Trim Waists, Measures Millions [NY Times]