It's been ten days since the announcement of the Stupak-Pitts amendment, and health care reform hasn't been the same. News bites, including the Massachusetts senate race, circumventing a filibuster, and how the Wall Street Journal got it wrong after the jump.
Pro-choicers had a signature drive, which allowed them to physically stack admissions of women's support and deliver it to the White House:
NARAL Pro-Choice America delivered a petition to Senate Majority Leader Harry Reid (D-Nev.) on Monday urging him not to include controversial anti-abortion language in the Senate bill.

The group gathered 97,218 signatures in a 72-hour drive over the weekend imploring the senate majority leader not to include the Stupak-Pitts amendment in his final version of health care reform. The amendment, initially offered by Reps. Bart Stupak (D-Mich.) and Joe Pitts (R-Pa.), would prevent private insurers from offering abortion coverage to anyone who receives government subsidies through a new insurance exchange.
Stephanie Simon of the Wall Street Journal committed a Guttmacher faux pas by using the organization's research to say that this change will not have a major impact on women:
Restrictions on abortion coverage approved in the House version of the health-care bill likely will affect the affordability of the procedure for only a small minority of women.

Although the bill has stirred passions on both sides of the abortion-rights debate — which are likely to be echoed when the Senate takes up its version — the practical effect of the restrictions will be limited, statistics suggest and some experts in family-planning issues say. [...]

Just 13% of abortions nationwide are billed to private insurance, according to a 2001 study by the Guttmacher Institute, which supports abortion rights but is cited as a reliable source of data by both sides in the abortion debate. An unknown number of people might seek reimbursement from their insurance company after the procedure. Applying the 13% figure to the most recent abortion data available suggests that fewer than 160,000 women a year rely on insurance to cover the cost of an abortion upfront.
G/O Media may get a commission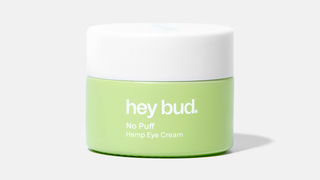 15% off
Hey Bud - No Puff Hemp Eye Cream
As a reminder, the Institute has stated very clearly:
Among the many arguments being made in the debate over health care reform is the claim that because very few women use private insurance coverage to pay for abortion services, loss of this coverage would have minimal impact. Those making this argument cite a Guttmacher Institute statistic showing that 13% of all abortions in 2001 were directly billed to private insurance companies (see Table 3, page 20, here).

However, that statistic alone misrepresents the situation on three counts:

* Our study included all women who obtained abortions in 2001, including women on Medicaid and those who are uninsured. If one looked only at privately insured women, the percentage of procedures billed directly to insurance companies would be substantially higher than 13%.
* Perhaps even more importantly, the 13% statistic does not include women who pay for an abortion up front and then seek reimbursement from their insurance provider. This is common when a medical provider does not participate in a patient's insurance plan, as is often the case with small, specialized providers, including abortion providers.
* Lastly, some of the women whom our study identified as paying out of pocket likely had insurance coverage for abortion care, but may not have known they had it or chose not to use it for reasons of confidentiality. Given the stigma that still surrounds abortion, many women might not have wanted their insurer or employer-or their spouse or parent who may be the primary policyholder-to learn that they had obtained an abortion. That antiabortion activists who have worked for decades to perpetuate that stigma are now turning around and using it to argue why women should not be able to purchase insurance coverage for abortion is deeply cynical.
Over in Massachusetts, the Stupak-Pitts amendment galvanized the senate race, with each entrant trying to out-maneuver the other:
State Attorney General Martha Coakley, the front-runner in the Dec. 8 contest, laid down the first marker by declaring soon after the House vote last week that she would have voted against the bill because of the amendment restricting the sale of insurance policies covering abortion through the proposed national health insurance exchange - or to women who receive health care subsidies from the federal government.

Asked in an interview with a Boston radio station whether she would have voted for the bill, Coakley said, "I believe that I would not."

"I think that this particular amendment that was put in is really a poison pill for that bill, and it's taking two steps back," she said.

Massachusetts Rep. Michael Capuano, who is also seeking the Senate seat and who was one of 219 House Democrats who voted for the bill, quickly seized on her comment, calling it "manna from heaven" for his campaign.

"I'm proud that my vote helped keep health care reform with a public option alive, so that the fight for health care reform will go forward," Capuano said in a statement. "I believe it's what the people of Massachusetts expect and what Ted Kennedy would have demanded."
In essence, Coakley is arguing that she would have voted no outright, in protest of Stupak, while Capuano said he voted for a bill to keep dialogue going, while voting against the final bill if Stupak is still in there.
However, there is some hopeful news. It looks like some of the Dems are hatching a plot to preserve the public option:
Sen. Sherrod Brown (D-Ohio), who requested the meeting with Reid, said progressives believe they have compromised enough on the public option – from a Medicare-for-all proposal to Reid's proposal to create a national government plan with a provision for states to opt-out.

"Most of us in the caucus want a strong public option, support the Reid way of doing it," Brown said. "And we're confident that over time, as the debate unfolds and we take amendment after amendment after amendment, that we can get 60 votes."

He acknowledged several moderates need convincing, but said there is little willingness among progressives to back down. [...]

A Senate aide said there were plans to discuss passing the health care bill through a procedural maneuver known as reconciliation – which favored by progressive activists because it would allow Democrats to circumvent the 60-vote filibuster threshold. A majority of the Democratic caucus supports the public option, and only 51 senators would be needed to approve the legislation under reconciliation.
Max Baucus is one of the moderate Dems that seems to believe that no matter what's in the bill, the most important thing to do push the Frankenbill to Obama:
"They wanted to talk about the importance of the public option being in the bill, which I understand," Baucus said. "But the main point is that we must pass health care reform hopefully by the end of this year. But we must pass it."
But as the public outcry over the Stupak-Pitts amendment has shown, the citizenry is becoming increasingly more concerned with the content of the bill, not just its existence.
NARAL delivers petition to Reid [Politico]
Limited Effect Seen in Abortion Clause [Wall Street Journal]
Misuse of Guttmacher Statistic on Insurance Coverage of Abortion [Guttmacher Institute]
Abortion key issue in Massachusetts race [Politico]
Senate liberals press Reid on public option [Politico]