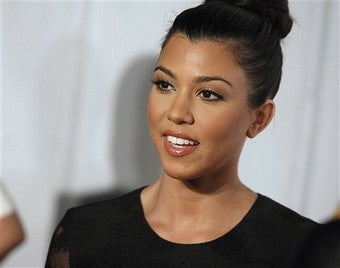 Kourtney Kardashian tells People today that she's going ahead with her pregnancy, after apparently being pressured by both her doctor and her boyfriend to do so.
Kardashian says "it was her decision – and hers alone – that was the most important." However, she also reports,
My doctor told me there is nothing you will ever regret about having the baby, but he was like, 'You may regret not having the baby.' And I was like: That is so true.
Of course, Kardashian might have regretted having an abortion, and she now seems excited about having a child. But is it really her doctor's place to tell her what she will and won't regret? Many moms have some occasional regrets about having children, even if they love these children very much, and to promise Kardashian that motherhood will be a totally uncomplicated decision seems unrealistic and irresponsible.
Then there's boyfriend Scott Disick's reaction. Kardashian says,
I got so excited, and when I told Scott he was so excited. But I think if I had said I'm not going to keep it, I really think he would have pushed me into keeping it.
So basically the decision of what to do with her body was Kardashian's alone, except that if she'd made the wrong one, Scott would have set her straight. Kardashian seems happy with her/her boyfriend's choice, but allowing a partner to influence an abortion decision doesn't always go so well. The AP today has the story of 28-year-old Leah Diver, who's now in critical condition after her 18-year-old boyfriend stabbed her for refusing to get an abortion. Every detail just makes this episode sadder: first of all, Diver might not even have been pregnant, and second, the stabber's mom is taking the crime as an opportunity to criticize Diver for being with an 18-year-old. To be fair, the man just turned 18 last week, but now is hardly the time to try to do the math on their relationship (especially since they may never have had sex). And it's never the time for a man to "push" his girlfriend into either a pregnancy or an abortion.
Kardashian says, "For me, all the reasons why I wouldn't keep the baby were so selfish: It wasn't like I was raped, it's not like I'm 16." But being raped or being a teenager aren't the only valid reasons to abort, and not everyone is "traumatized by it afterwards," as in the accounts Kardashian apparently read. It seems she was swayed by these accounts, as well as by the inappropriate influences of other people in her life. But no woman considering abortion should be swayed by Kardashian, who calls the decision "hers alone" even though she was prevented from independently making it.
Kourtney Kardashian Agonized Over Whether To Keep Her Baby [People]
Abortion Argument Turns Deadly [AP, via CBS]