As much as I like makeup, I don't feel like I put a lot of effort into my daily beauty routine. Over the past few years I've been adding products to my regimen as I see fit, or after coming to stupidly obvious realizations. For example: learning that I should use facial moisturizer for my face and not just my body moisturizer, or discovering that putting concealer under my eyes will make me look less like a tired crone. Which is also to say that I don't think I have any grasp on what my beauty routine should actually look like, or what I'm lacking.
So, I'm figuring it out!
7:45 a.m. : The corpse reanimates
This is when my alarm goes off daily (we start working at Jezebel at 8:30) but it's not exactly when I "wake" "up" if you know what I mean. I probably actually roll out of bed around 8:00. I also don't really shower in the morning, I tend to shower at night, because I have long, wavy hair that takes forever to air dry (I don't usually diffuse my hair or blow-dry it straight because it's too haaaaard and I am not Red-era Taylor Swift.) So please read this knowing that I don't look like Pigpen and do maintain good bodily hygiene (having showered the night before.)
So, I immediately wash my face. This morning I exfoliate with La Roche Posay's Ultrafine Scrub, which I just got because I didn't have a scrub/exfoliant in my routine (my old one, Dr. G Brightening Peeling Gel, ran out and I wanted something new). Then I moisturize with Cetaphil's Daily Facial Moisturizer and drag myself over to my kitchen where I take out Klorane's "Smoothing and relaxing patches" from my fridge.

I'll just say now that I do not use these patches every day because they are extremely expensive and I bought them on a whim at a nice pharmacy in my neighborhood. But I like them because I really think they do reduce puffiness under my eyes, though I really should just use spoons. They also make me feel like a model in the beauty prep chair and/or a raccoon (please see picture above.) I leave them on for like 20 minutes or whenever I remember they're still on my face.
G/O Media may get a commission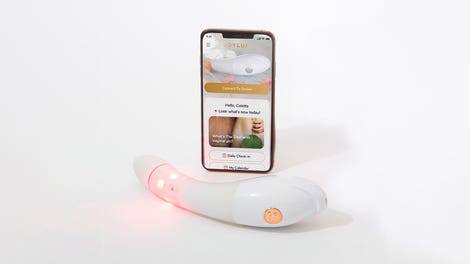 $50 Off
Joylux vFit Gold Device
10 a.m. ish? 11ish? 12ish? Whenever I am ready to head into the office and stare at a screen, again, but this time with free coffee.
I never wear the same makeup every day because I get bored easily. My go-to look is just eyeliner, whether it's a black cat-eye (which I've been wearing since I was a teenager) or smudging a pencil around my lid. I do wear lipstick from time to time (usually red or something in the berry family) but eyeliner for me is just so much easier, I put it on and it doesn't budge and I don't have to touch it up. I also don't differentiate really between "going out" makeup and just regular work makeup but I'm not going to, like, rock a smoky eye to work.

Or… should I? Please sound off in the comments.
Here's my makeup routine today:

I'm a cute zombie, non?
Before I leave for the day I spritz on Geoffrey Beene's "Grey Flannel," which is a pretty basic cologne. In the winter I like to wear cologne and in the spring and summer I like to wear perfume. My mom got this for me years ago, it was big in the '70s and '80s, and it smells like a strong, woody, violet-infused fragrance. I spray it into the air and step through it because it's a pretty heavy scent. Do I smell like a musty older gentleman? Sure! Do I like it? Indeed!

This look is with me for the whole day and I don't really touch it up or change it unless I'm going somewhere fancy. This night I'm going to Junior's Cheesecake so NO dramatic new look will be needed. (No offense to Junior's Cheesecake.)
Whenever I decide to go to bed
As I said, I shower before bed. Right now I have four different brands of shampoo and conditioner in my shower because... I don't know. I think I am easily swayed at the salon when people try to get me to leave with new products so each one of them serves a different purpose (curly hair-specific, moisture-specific, volume-specific.)
You know how some people say skincare is bullshit and that great skin comes down to good genes? Well, I kind of think that about hair products, just a little bit. I'm definitely not the kind of person who can use a hair conditioner and shampoo that don't have some sort of advertised, moisturizing properties (or god forbid a Pantene 2-in-1 combo) so it's not like I think everything is the same. But I've also cycled through enough fancy and drug store, natural and non-natural, conditioners and shampoos to know that my hair texture is my hair texture and not a whole lot can change it? Which is fine because I'm genuinely into it, even though I feel like I'm constantly being sold this idea that it could be better (shinier, curlier, whatever.)
Right now this is what I'm using in the shower:
Bumble and Bumble BB Curl Shampoo, which is for all curly hair-types. This is honestly fine. The no sulfate aspect is always good and this definitely doesn't dry my hair out.
Renewing Argan Oil of Morocco Conditioner, which makes my hair very shiny.
Bliss Hot Salt Scrub to exfoliate in the shower.
And a minty Maypole LUSH soap because I love mint soap but a lot of it, like Dr. Bronner's, is too strong.
When I get out of the shower I let my hair, which I combed in the shower, air dry for a bit until it's just damp. Then I take DevaCurl's Wave Maker "whip" which is really like a cream, smush it all over my hands, and glide them through my hair and scrunching it a bit. There's no "crunch or hair looking like it's still wet" look with this cream, FYI. When I then sleep on my hair I'm convinced it makes my hair shinier than when I wash it in the morning and let it air dry through out the day.
Before I go to bed I take off any makeup that didn't come off in the shower with a Neutrogena makeup wipe and wash my face with Cetaphil, which I probably could have just done in the shower if I was smarter but the product is in my medicine cabinet. It's simple but it gets the job done. I also moisturize my body with Aveda Body Lotion (not pictured) because, again, it has a good, minty scent.
Then I put on a "Creamy night mask" from Sephora because my apartment gets very hot in the winter which makes my skin, already prone to dryness, extra dry. This is a super gooey but not at all greasy mask and I love it, it just sinks into my skin and doesn't just lay on top of it like a lotion. And then maybe once or twice a week I'll use BelleEvolve's Lac-Luronic lactic acid serum on my face, which I got because I read that it was sort of a dupe for the infamous Sunday Riley Good Genes serum. I can't tell if it's as good as the real thing, or even remotely like Good Genes, but I like it and it definitely makes my skin feel and look nicer (or as they say in the beauty industry: brighter!)
And that's it! That's all the stuff I put on my bod and face in a day.