Have blowjobs gone the way of the dodo? According to Geoff Dyer in Esquire, they pretty much have. Dyer claims that heterosexual fellatio has become the erotic equivalent of the leisure suit, peaking in popularity in the 1970s "when the culture was bigging up the blowjob." Now, he reports, guys just want to go down: "I recently undertook a small survey of some more mature male friends, and the results, while not unanimous, were overwhelming. To speak plainly, given the choice, eight of the ten men surveyed preferred eating pussy to having their dicks sucked."
Even if a survey of ten of Dyer's "mature male friends" constituted a study, he makes quite a leap: just because 80% of these dudes would rather go down than be blown that doesn't mean that they're actually refusing blowjobs. A rise in reciprocity is one thing; an active dislike of receiving fellatio is another one altogether. On the other hand, Dyer may be on to something. In an era of rising male body dysmorphia, we know that more than men than ever before are self-conscious about their appearance; it's conceivable that anxiety about their size (driven by comparison to well-hung porn stars) or even how their penises' smell has some guys anxious to avoid the intense focus that comes with a woman's mouth on their manparts.
If we're going to compare anecdata, the responses on my Facebook page when I posted the Esquire story suggested that reports of the blowjob's demise have been grossly exaggerated. What does seem to be happening –- and where Dyer gets it right -– is that going down on women (and doing it well) has taken on a new cachet. He admits that men have hardly become "selfless givers of pleasure; it's just that what constitutes pleasure has shifted." Cunnilingus, in other words, is a particularly effective way for the modern dude to demonstrate sexual competence. There's more than a whiff of competitiveness about the guys Dyer cites; it would be interesting to find out how many of these men ask their partners afterwards for feedback -– and ask to be rated (favorably, they hope) against their previous lovers.
Another possibility: pussy-eating's increased popularity is a strategic response to performance anxiety. Guys are more aware than ever that many women really like sex. They're also keenly aware that there's little a dude can do to increase the size of his penis; they know too that erectile dysfunction and premature ejaculation are omnipresent threats. Fortunately, tongue size is all but irrelevant to good oral sex technique – and there's little chance of being stricken by flaccid lingual syndrome. Mastering oral becomes not only a great way to get compliments, it's a dandy hedge against the problem of a malfunctioning penis.
G/O Media may get a commission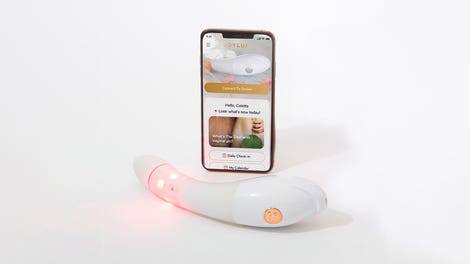 $50 Off
Joylux vFit Gold Device
But hey, all of this is based on ten of Geoff Dyer's most mature male friends. What say you? Are dudes today foreswearing the blowjob while pleading for the chance to go down? And given that oral lost to missionary in March Madness yesterday, does any of this matter?
Image via FOTOCROMO/Shutterstock.