Just two days ago, American Graffiti came on one of those expensive cable networks, prompting me to google "Harrison Ford young." Did you know Harrison Ford was in American Graffiti? Did you know George Lucas directed American Graffiti? Did you know Harrison Ford, in American Graffiti, was a young, hot babe?
This tweet was a good reminder of that. American Graffiti predated Ford's stint as Han Solo by four years, though as both Graffiti's Bob Falfa and in Star Wars, Ford played a swaggering cowboy type with a smart mouth and a bitchin' ride. He was something of an American West archetype, and one wonders if it wasn't a bit of typecasting—one of his homes is, famously, a ranch in Jackson Hole, Wyoming—but it's also apparent that, in addition to his acting talents, his charisma went a long way.

Just watch how he handles this 1977 interview with Bobbie Wygant, on a press run for Star Wars: A New Hope. A minute and a half in, she asks him if he's a sci-fi, "Buck Rogers" kind of guy. He says no; she agrees; he leans in just a tiny bit, never breaking eye contact. But it's not quite the way most actors seem to hold their interviewers' eyes, trained to be charming on camera. Young Ford, 35 at the time, looks mesmerized and in turn is mesmerizing, leaning casually on his arm as though Bobbie Wygant is the most compelling person in the galaxy. He calls Star Wars a "space fantasy."
Here is Carrie Fisher in 1978, looking at Ford like he is the most interesting man in the world. In her fantastic memoir, Wishful Drinking, she admits that she was enamored of him, but that she was too zooted on cocaine at the time to do anything about it. (Also, he was married, then to Mary Marqhardt.)
Ford spent the better part of the 1960s reaching out as a young actor, landing mostly guest spots on popular TV series like Mod Squad, Gunsmoke, and Love, American Style. Bob Falfa was his first major role; between American Graffiti and Star Wars, it was mostly back to TV movies for Ford, even after a role in Francis Ford Coppola's The Conversation.
G/O Media may get a commission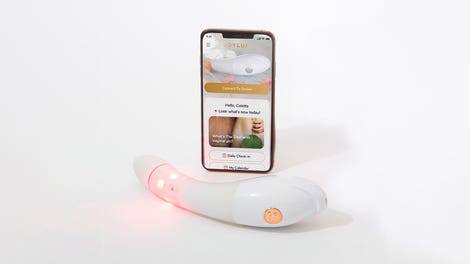 $50 Off
Joylux vFit Gold Device
Lord knows how it happened that way, though, because here are the vibrations Ford was delivering in 1974. The acting was superb; the hair was absolutely perfect:
Star Wars obviously blasted Ford to superstardom, and his relatable, compelling, humorous almost-bad-boy still resonates; it also landed him a series of almost stereotypical masculine roles, such as Barnsby in Force 10 From Navarone. I haven't seen it and very likely won't, but get a load of this chiseled gaze:
Directors liked working with Ford, obviously: Coppola cast him in Apocalypse Now as Colonel Lucas, who wore gold aviators and played his role with a nervous, babely fortitude.
By 1979, Ford was back in the saddle of the wild cowboy archetype, playing the straightman to Gene Wilder's zany rabbi in The Frisco Kid. Should I see this? No, right? It was technically Ford's first Western proper, though of course all the theorists and Joseph Campbell know that Star Wars, in addition to being a "space fantasy," is just a Western set in the sky. At any rate, Young Ford looked fly in a cowboy hat.
Of course, Ford reprised his role as Han Solo in The Empire Strikes Back and Return of the Jedi, but he bore out a similar Jungian hero in Blade Runner and the other blockbuster franchise he carried: Indiana freakin' Jones. The year was 1981, Indy was searching for a biblical artifact, and America was searching for a hulking man-savior, just as the Reagan era was about to unleash its torrid and radioactive hellscape unto our souls. Indy taught us that the new way of mechanical warfare was so much easier than, say, fighting hand-to-hand; he also ambled around with his shirt open—it was hot in Egypt!—further impressing his indefatigable babeliness into our hearts and minds.
In 1984, while the Temple of Doom awaited, America's temple of lust was beside itself. India was apparently even hotter than Egypt—hot, so hot!—and thus required Indiana Jones to open his shirt even more, so as to let in the air on his strong chest and biceps. Too bad.
---
Contact the author at julianne@jezebel.com.
Images via AP