September's Harper's Bazaar is 110 editorial pages of beautiful contradictions. Is fall about the 40s or the 80s? Do all black women roam the African savannah, or do some of them also sing in jazz clubs? Photoshop: Pro or con?
Peter Lindbergh shot an entire editorial without recourse to that particular computer program, except for minor color-correction. Kristen McMenamy, Tatjana Patitz, Nadja Auermann, Claudia Schiffer, et. al., also posed without any hair products or makeup.


And they predictably look fantastic. Does this spread in any way address the constant barrage of unrealistically altered images of women in the fashion media? Only obliquely, at best. And the skincare peg — all the models are shilling their supposed favorite spas and products — is a little annoying. I worry sometimes that these non-Photoshopped editorials are becoming more of a stunt than a corrective; French Elle had one, also shot by Lindbergh, and even Life & Style ran a Photoshop-free cover, of Kim Kardashian. How awesome would it be for a fashion magazine to state, as a matter of editorial policy, that excessive and unrealistic retouching will never find a home in its pages? That adjusting the white balance in post-production is fine, but that rhinoplasty-by-liquify-tool and 80 gazillion layers of changes are not? That would be a magazine worth buying.


G/O Media may get a commission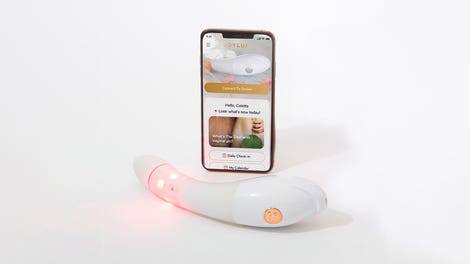 $50 Off
Joylux vFit Gold Device
Which is not to say that it isn't still wonderful to see images of real women at a variety of ages, images that haven't been "fixed" beyond recognition, even if these spreads are annoyingly presented as the fashion equivalent of Very Special Episodes. Shalom Harlow, pictured here, has always been one of my favorite models, and shots like this prove she of all people doesn't need post-production smoothing and sculpting to look bewitchingly beautiful.


Karl Lagerfeld shot this editorial, notionally inspired by Peggy Guggenheim, in Venice with Lara Stone and his latest boytoy, Baptiste Giabiconi. (Baptiste gets to wear boy clothes in this one, amazingly: Lagerfeld has a habit of styling his favorite hot young thing in women's wear and heels.)


Lara often looks kind of severe and disapproving — Cathy Horyn once compared her to Lurch — but the Gugg-inspired blonde clown hair in this spread sure isn't helping her.


These sunglasses, which if you look closely you can see are the shape of a bat spreading its wings, belonged to La Dogaressa (real, and awesome, nickname) herself.


It wouldn't be fall without some kind of a generalist "New Shapes" spread. This one, shot by Camilla Akrans, stars Kendra Spears and Katie Fogarty, who are aged 20 and 17, respectively, and accompanies text by Suzy Menkes. Representative quote: "THOUGHT FOR THE DAY: It could be time to go green. Rethink jade."


Of course, Madonna's bunny ears get a shot.


It also wouldn't be fall without a long, studio-shot editorial of a model — Karmen Pedaru — jumping dazedly.


There is, however, a beautifully shot Glen Luchford editorial, starring the spooky Eniko Mihalik.


And Siri Tollerod turns up with Richard Burbridge to do one of those perennial accessories editorials where the fashion magazines try and convince their readers that even when it's fall and the mind turns to tweed, we will still somehow feel like wearing acid brights and neon and "pops of color."


Oh, look: Our old friend Jean-Paul "I have jungle fever" Goude. Styling Naomi Campbell in leopard print, racing a cheetah across the serengeti, really is daring and original.


Naomi rides an elephant. Like a real African Queen.


She jumps rope. With monkeys. Monkeys.
We all know that black models have been lamentably absent from mainstream fashion magazines and runways. But all that shoots like these do is draw offensive similarities between black women and wild animals, and reiterate, in pictures, the old colonialist assumption that black people are savage and uncivilizable. Naomi Campbell isn't from Tanzania, she's from Streatham; at what point does having a British woman wander around the African wilderness, performing truly awful received ideas of how African women behave, for a publication with a majority white audience, verge on minstrelsy? Having no black models represented in magazines is a problem. But is this kind of representation actually worse than being totally ignored?


Then, Naomi perched on the back of a crocodile — this shoot was obviously not Photoshop-free — while wearing a Dior haute couture crocodile jacket and pants.


Interestingly, the Jean-Paul Goude shoot is followed in the magazine by a 14-page Peter Lindbergh editorial starring Chanel Iman and Arlenis Sosa. The theme? The Harlem Renaissance. This shot of Chanel was taken just outside the iconic Lenox Lounge, on Lenox just south of 125th Street.


Chanel and Arlenis, who are photographed carrying trumpet cases and singing into old-fashioned microphones, make pretty great foxy jazz musician dames. And while the Harlem Renaissance is kind of a cliché — and the period doesn't really have much discernible connection with life in the Harlem of today — it's nice to see a period with a black cast mined for interest in a fashion magazine, rather than just another all-white editorial about the Summer of Love or Studio 54.


Besides, the setting is the perfect way to set off the 1940s looks so many designers have turned out for this coming fall.
Can anyone identify this block? I want to say it's one of those gorgeous brownstone streets south of Marcus Garvey Park, but it also could be Strivers' Row. Either way, it's gorgeous.


The commitment to period realism does falter slightly in places: Sylvia's restaurant was founded in 1962.


And if you look really closely in the magazine, you can see the Fairway supermarket, just under the elevated rail line. In all, though, it's a beautiful shoot.


I don't think I even want to investigate the subtext of Harper's Bazaar using a milk-pale blonde British model as a stand-in for a black American pop megastar; let's just reiterate that this spread, which was obviously thrown together at the last minute, unfolds like an uninspired afterthought. And also the clothes suck.


Jessica Stam and Benjamin Alexander Huseby pop in for an editorial all about gardening, and fall tweeds of the sort that Little Edie would have loved.


Nobody does sublime eccentricity like Stam.


And Magdalena Frackowiak has an editorial all about shopping, photographed by Terry Richardson. Seeing her play a ditzy society lady with more credit than sense would be funny, if the photos weren't desperately captioned things like "SHOP: SAVE JOBS!"


In an accompanying article, by Derek Blasberg, about the macroeconomic imperative of increasing consumer spending, Margherita Missoni says: "It was cool to talk about the recession — which I found extremely annoying. But it seems not that people are no longer embarrassed to have good things." Thank god that recession thing is so over! God, that was such a drag!


I will leave you with images from Harper's Bazaar's Sesame Street-themed shoot, which features models Sessilee Lopez and Tao Okamoto. It's Sesame Street's 40th anniversary this year, so the magazine sent designers down to where the air is sweet.


This shot of Oscar de la Renta with Oscar the Grouch might actually top Harper's Bazaar's awesome The Simpsons fashion spread. Maybe.