Mediabistro has an interview with Glenda Bailey, the editor-in-chief of Harper's Bazaar, and it would seem that Ms. Bailey is just as smart — and stubborn — as our handwriting analysis revealed. Ms. Bailey's resume — former editor-in-chief of Marie Claire and Marie Claire UK; onetime punk rocker; and reputed inspiration for Edina in Absolutely Fabulous — is only part of her personality: She reads Popular Mechanics, refuses to admit that there is a rivalry between Bazaar and Vogue, and despite winning the Expensive Shit (Fight) against W magazine, Bailey has a down-to-earth view of fashion: "Fashion reflects what's going on in our society," she says. Some choice quotes, after the jump.
Mediabistro: You actually read Popular Mechanics?
Glenda Bailey: Yes — which is particularly interesting because I don't drive. I love the art of editing. You don't have to know about the subject to know whether something is well done.
(on her fashion week uniform)
GB: I really don't like to wear one designer head-to-toe. That says everything about the designer and very little about me. I try to buy clothes that complement my existing wardrobe.
(on sitting in the front row at fashion shows)
GB: I take that job very seriously; I don't take myself very seriously.
G/O Media may get a commission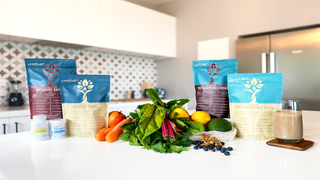 (on what makes 'Bazaar' successful)
GB: We put fashion in context of popular culture. It's really quite unique positioning in our market. In the September issue Chloe Sevigny in the rehab story totally reflects what people are talking about. [The actress is depicted in a fashion spread as a starlet in rehab].
M: Have you had a disappointing celebrity cover?
GB: No. We were fortunate enough to win the ASME award for best [celebrity] cover [in 2006 for the January issue] and that was Julianne Moore and she's not known for being a newsstand success. What I loved about that cover is we even covered her face — which is something you're not supposed to do and it was all green, which is also not successful with a cover. Obviously that sold very well. Often you see a list of people who don't sell very well. I would just say to every editor it's whether the person is right for that particular magazine and the timing is right.
M: Ever think fashion has become too egalitarian?
GB: Our job as editors is to find the very best fashion at the best price. The more variety there is, the better it is for the reader.
M: Has the diva factor played up on shows like Project Runway given fashionistas a bad rap as super bitchy, overly competitive strivers?
GB: Fashion is the entertainment industry and attracts lots of characters. Long may that continue.
M: Anna Wintour, the editor of your rival publication, is very much a "celebrity editor." You seem to keep a much lower profile. How do you see yourself in that context?
GB: [Laughs] I just get on with my job.
M: How would you say you've gotten to where you are?
GB: Hard work and good shoes.
M: Do you have a motto?
GB: Good is the greatest enemy of great.
So What Do You Do, Glenda Bailey, Editor-In-Chief, Harper's Bazaar? [mediabistro.com]
Earlier: 'Harper's Bazaar' Editor Glenda Bailey: Smart But Stubborn
Shameless September Ladymags: 'Harper's Bazaar' Vs. 'W'