Welcome to 'Fine Lines', the Friday feature in which we give a sentimental, sometimes-critical, far more wizened look at the children's and YA books we loved in our youth. This week, writer / reviewer / blogger Lizzie Skurnick reads 'Hangin' Out With Cici', Francine Pascal's 1977 story about life before the Wakefield Twins.
Getting to be thirteen turned out to be an absolute and complete bummer. I mean it. What a letdown. You wouldn't believe the years I wasted dreaming about how sensational everything was going to be once I was a teenager.Spending time socializing with one's mother must rank up there with transcribing Haydn and laying brick as the activities your average 13-year-old is least likely to want to partake in. But Francine Pascal, best known for the Sweet Valley High series—you may have heard of it—manages in this most charming standalone novel to create the one situation wherein which bouncing around town with dear old Mom could reasonably compete with a hot date with Bruce Patman. Victoria is a private-school student in New York, rebelling as hard as she can against her school's "vomity blue blazer," and boxy pleated skirt and anything else that attempts to box her in. A humble ringleader, she modestly declines to take credit for the numerous disruptions swirling around her, even when authorities strenuously insist she take credit. Unfortunately, after a disruption involving a theater balcony, a cigarette, and a spitball directed at a teacher's head, the new principal himself declares that present herself at his office, with parental guardian at her side, to receive her just due. For some time, Victoria and her mother have been locked in the kind of go-rounds that would bedevil a career. A typical one goes something like this:
Now she comes stumping toward my room, saying, "You just listen to me!" She's angry and just pushes the door open without even knocking. "You're behaving like a four-year-old." And we start our usual argument. "That's the way you treat me," I say, and she tells me that's because I act like one and I should realize I was wrong and accept my punishment, and it goes on that way with me saying one thing and her saying another but never really answering me.... I swear I'll never treat my daughter the way they treat me. I'll really be able to understand her because I'll remember how awful it was for me.
But her latest infraction changes the stakes entirely. As it happens, the principal is suggesting not only that Victoria needs to be brought into line, but that she might draw the line somewhere else entirely. And as Victoria departs for one last weekend of freedom at her cousin's birthday party—a weekend during which she is busted for, as her aunt says, "smoking a pot," only adding fuel to the ganja—she realizes her mother isn't only mad. She's about to give up on her. But somewhere during the train ride home from Philadelphia something strange happens. The lights go off, Victoria bumps her head, and when she wakes up, the little old lady next to her has been replaced by a young, pregnant lady, all the passengers seem to have recently picked up a child or two, and the kindly, elderly conductor is now a kindly young conductor. You may see what's coming, but Victoria doesn't yet—quite. Walking through a slightly unfamiliar looking Penn Station, trying to find her mother by the information booth that is strangely half the size it used to be, she decides first that they must be filming a movie, then that New York tourism has taken an odd direction:
You can tell they're really squares. All the women are wearing skirts and the men are dressed in baggy suits and most of them are wearing old fashioned felt hats. Not even the kids are wearing jeans. In fact, nobody is but me. It's unreal. This has got to be some kind of convention group from Missouri or someplace. Something real snappy like librarians, funeral directors, and Eagle Scouts.
G/O Media may get a commission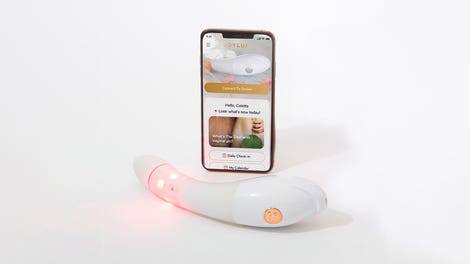 $50 Off
Joylux vFit Gold Device
She's relieved when she sees Cici, a girl her age whom she waves over, mistaking her for a friend. Cici is unperturbed, and then, after hearing her story, waits with Victoria, then finally invites her to come hang out with her Queens until Victoria can reach her mother, who she keeps trying to no avail. Getting on the E train, Victoria tells us, "...I can tell right off I'm really going to like Cici. You know how it is, sometimes you just meet someone and bang, you hit it off. Better than that, you're old friends instantly."
Cici and I chatter away for the rest of the trip. We seem to have a million things in common. Especially problems. She tells me about how she's always getting into trouble for the littlest, most unimportant things. Just like me. Plus she hates the way she looks, too. I tell her she's crazy because she's really cute-looking, but she says her eyes are too small and close together and she thinks her knuckles are too big.
Victoria and Cici spend the afternoon together, partaking in wholesome activities like shoplifting and thwarting perverts in the movie theatre. But throughout, Victoria is finding it harder and harder to make excuses for why her number, apparently, doesn't exist in the New York area anymore, everyone is dressed like an extra from a black-and-white movie, and in Queens, apparently everything is sold for 1/8th of its usual Manhattan price. Because the answer is...it's May 19th, 1944! No biggie. Staring incredulously at the day's paper, Victoria is filled with despair at realizing she's truly and irrevocably screwed: "This is definitely the forties and I have no home and no family and I'm going to be stuck here forever." But what...there's more! When Cici finally manages to drag the distraught Victoria home, she's shocked to hear a very familiar voice—and then absolutely gobsmacked to see the person that goes with it:
Sure, she's younger and slimmer and all that. But there's no question. I know for absolutely certain that she's my grandma. And this has to mean—no! I won't let the thought come an closer! It can't be! YES! Felicia! Cici! My own mother! Holy cow, I am I dumb. Fantastic! I told you she looked familiar. I mean, she didn't really, but there were things about her that reminded me of someone. Not so much the features, but more like the expressions, the way she talked—I don'tknow what, something, maybe the look in her eyes. I just knew I knew her all along, only I thought she was a friend of somebody's or some girl I met someplace. That's what threw me. I thought she was a kid like me. But she's not. She's a woman. Felicia, Cici, whatever she wants to call herself, there's on thing for sure, this crazy nutty kid who isn't afraid to zonk a pervert in the shin, turn Woolworth's upside down, sneak cigarettes in a garage, and probably do a million other kooky things and maybe even some awful things like buying a science test, isn't my friend at all. She's my mother!
Hangin' Out With Cici is a wonderful way to learn all about the 40s (where else would I have ever heard the phrase 'Kilroy Was Here'?) but it's also a great book for learning about what makes someone realize it's time to grow up. In Cici's case, it's finally being caught for a crime even she's ashamed of. But in Victoria' case, it's that, by realizing her mother is a person just like she is, she considers that she might want to start persecuting her for every conceivable crime. As she watches the young Cici scramble off a roof on her way to an ill-fated mission, she thinks:
Watching her now reminds me how once, about two years ago, we were on a picnic with two other families in some park on Staten Island, and I don't know why, but everybody (the adults anyway) was kidding around and daring each other to do all sorts of crazy things like swinging from monkey bars and climbing trees I remember that my mother climbed higher than anyone else, so high that I began to get a little worried. Everyone else thought it was hysterical, but it seemed kind of peculiar, even a little embarrassing to me. Now that I consider it, I guess it was kind of unfair of me to be embarrassed. After all, just because you've got children doesn't mean you're nothing but a mother. I'm hopeless when it comes to my mother. Everything about her is either embarrassing, irritating, or just plain confusing. I don't know why I can't just say she's a super climber and let it go at that.
By seeing her mother in her own place—that is, a lovely, charming girl on the verge of becoming a juvenile delinquent—Victoria is suddenly able to put herself in her grown-up mother's place, too. Suddenly, she realizes that it's not her mother that's been giving her a hard time. It's she who's been giving her mother a hard time. As the book ends, Victoria is returned back to the clog-wearing 70s with rock-hard evidence that her mother, however shrewish she seems now, once, really and truly did know how she felt. But Hangin' Out With Cici is isn't only really about getting to know your mother. It's about realizing your mother, that shrew, made a choice to grow up once, for a good reason—and you might want to think about it, too. • • • • • Well, well. My clever, clever girls. I guess they weren't wrong to give us the vote after all! Reading through all these correct responses, the first thing I notice is how powerful we are when we all work together! The next thing I notice is that only one person will receive any benefit from it! That's life! So, the answers to the Plotfinders, in order, were, as 987 of you pointed out, first Fade, by Robert Cormier (Nicole W. first by email), second Rabble Starkey by Lois Lowry (first commenter nevacaruso), and the third The Truth Trap by Frances Miller, first winner again Nicole W. The only one to get them all correct was Joan S., but since Nicole W. also had two correct and FIRST on each, she too gets a win, by a tweak to my calculus, which is mine, so I'll tweak it if I want. Go girls!
You can write me at JEZZIEFINELINES@GMAIL.COM to claim your prize of first column. Previous winners, I have not forgotten you. Your books are coming up:
A Summer to Die
Z is for Zacharia
I Capture the Castle
Bloomability
Tuck Everlasting
If you had a win and I don't have it there, write me and I'll make sure it's already scheduled, too.
NOW FOR THIS WEEK'S PLOTFINDER, which comes from reader Jaime G.!
It's about two teenagers who become/are friends - they might be next-door neighbors? One is tall and thin - named Lara or something, like "Laura" but not - and the other is short and not-so-thin - she might be names Stacey? They each envy the other's life, so they swap homes - I think Lara (Lorna) has a health-food freak hippie mom, and when the short girl is living in her home, she sneaks junk? Lara/Lorna also thinks she's too tall, and has heard that drinking coffee stunts your growth, and sneaks instant coffee - there's a scene of her mixing its nastiness in the bathroom, I think.. maybe the other girl's mom is the health freak? Oh, also the short girl has boobs, and the tall girl doesn't. I think. Then I think there are boys involved at some point - I think Lara/Lorna/whatever might end up with a boy. But basically I remember tall/short, house-swap, and instant coffee. Help?
I just love all the qualifiers here. Ladies, BOOBS OR NOT? Maybe not. Let's get that one locked down. To answer, write at jezziefinelines@gmail.com with your solution. First win gets choice of column.
Guess what! I am writing a book and it relates to this column! Do you want early alerts on title, contributors, cover, where to buy, readings and my middle name? Si? Click here to send me an email and subscribe, or write me at jezziefinelines@gmail.com with I CAPTURE THE COVER in the subject line, and I will put you on it.
I am very, very tired this week, for reasons that have to do with all of you readers. I will announce the next roster next week, if I have recovered by then. If you need anything MORE than what I have given you, a.k.a. my life's blood, or you just want to say hey, write me at jezziefinelines@gmail.com. I will scrawl "Kilroy was here" across all communiques.
(Also related to you readers: my trusty IBM T-42, I trust, is on its last legs. Any recommendations for a nice, light travel computer? Teeny? Not a Mac, please. I know you guys love those Macs! But something even smaller. I don't really need it to do that much more than let me type things, buy things, and email with all of you lovelies. Many thanks for your advice.) Hangin Out With Cici [Alibris] Lizzie Skurnick [The Old Hag] Earlier: Remember Me: After Birth, After Life •Bridge To Terabithia: Troubling The Waters •Flowers In The Attic: He Ain't Sexy, He's My Brother •A Little Princess: A Reversal Of Four Buns • Tiger Eyes: Cuando Los Lagartijos Corren •Homecoming: A Dicey Prospect • Go Ask Alice: Alice Doesn't Live Here Anymore
• The Wolves Of Willoughby Chase: Life's A Bitch And So Is The Governess
•Stranger With My Face: Stop Projecting
•Happy Endings Are All Alike: The Price Of Fault
•The Pigman: A Day No Friends Would Die
•Julie Of The Wolves: The Call Of The Wild
• Deenie: Brace Yourself
•A Wrinkle In Time: Quit Tesseracting Up
•Love Is One Of The Choices: No, Not That 'Sex And The City'
•The Girl With The Silver Eyes: Little Pitchers Have Big Pharma
•Starring Sally J. Freedman As Herself: Springtime For Hitler, Part II
•Summer Of My German Soldier: Springtime For Hitler, Part I
•From The Mixed-Up Files Of Mrs. Basil E. Frankweiler: City Of Angels
•A Gift Of Magic: Totally Psyched
•Are You There Crazy Psychic Muse? It's Me, Lois Duncan
•The Secret Garden: Still No Idea What A Missel Thrush Is
•To All My Fans, With Love, From Sylvie: No Telephone To Child Services
•The Westing Game: Partners In Crime
• The Moon By Night: Travels With Vicky
•My Sweet Audrina: The Book Of Sister And Forgetting
•The Long Secret: CSI: Puberty
•The Cat Ate My Gymsuit: A Pocket Full Of Orange Pits
•The Witch Of Blackbird Pond: Colonies, Slit Sleeves And Stocks, Oh My!
•Are You In The House Alone? One Out Of Four, Maybe More
•Jacob Have I Loved: Oh, Who Am I Kidding, I Reread This Book Once A Week
• Then Again, Maybe I Won't: Close Your Eyes, And Think Of Jersey City
•My Darling, My Hamburger: I Will Gladly Pay You Tomorrow For A D&C Today
•All-Of-A-Kind Family: Where I Would Put Something Yiddish If I Thought You Goyishe Farshtinkiners Would Farshteyn
•Island Of The Blue Dolphins: I'm A Cormorant And I Don't Care
•Little House In The Big Woods: I Play With A Pig Bladder Like It's A Balloon
•The Grounding Of Group Six: Have Fun At School, Kids, And Don't Forget To Die