Hamilton is the biggest thing on Broadway since the standing ovation was invented. Before it was on Broadway, it was in a series of workshops and smaller venues, developed by artists who are not necessarily seeing any of the profits from their work.
In a potentially landmark case, producers have caved to pressure to share some of the profits with original cast members. The New York Times reports that the decision was announced on Friday:
The agreement means that actors will have a piece of "the profit stream from the play," Ronald H. Shechtman, a leading labor lawyer in the theater industry who represented the "Hamilton" performers, said in a statement.

Jeffrey Seller, the lead producer of "Hamilton," a megahit now generating upward of $500,000 in profit every week on Broadway, confirmed the agreement. Neither Mr. Seller nor Mr. Shechtman would discuss details, some of which remain to be hammered out, and Mr. Shechtman said that the performers were not ready to comment on the deal.

Kate Shindle, the president of Actors' Equity, the labor union representing theater performers, said that while the broader discussion about how actors are compensated for contributions to developing shows will continue, the "Hamilton" agreement was significant.
"This should be a real moment of celebration for any actor who feels powerless," she said.
There are comparatively few musicals that go on to experience the success of Hamilton, but the conversation around the show has sparked concerns amongst developing shows and within the union. The Public Theater, where the musical was originally staged, has even had to put off the development of a new musical because they can't reach an agreement over potential future profit-sharing with performers.
During early workshops on the show, Equity tried for a workshop contract that would give actors a share of future royalties, but no agreement was reached. Actors ended up signing modified lab contracts that gave them a right of first refusal to their roles, but not royalty participation. They started pressuring producers to reconsider in August when the show was opening on Broadway.
G/O Media may get a commission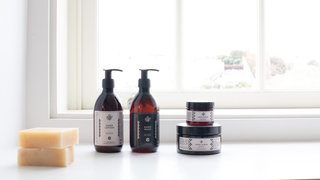 Exfoliate and Hydrate
The Handmade Soap Company
There are other case studies to back up their claim, like royalties received by The Book of Mormon actors, and a profit-sharing agreement reached by cast members of A Chorus Line, who had originally sold the rights to their life stories for $1. Without comment, it's hard to know what finally made Jeffrey Seller cave, but it is almost embarrassing to be making that much money a week. Not so embarrassing that I wouldn't accept, but sharing is good PR.
Image via Getty.
---
Contact the author at aimee.lutkin@jezebel.com.