Now that Halle Berry's embroiled in an increasingly nasty custody battle with her ex Gabriel Aubry, "experts" have diagnosed her problem: daddy issues.
Berry's camp is saying she pulled out of New Year's Eve (replacement: Katherine Heigl) in order to deal with custody issues, and her rep said in a statement that Berry has "serious concerns for her daughter's well-being while in the care of her father for any extended period of time and is prepared to take all necessary steps to protect her." Aubry's former business partner told People that "once they broke up he became verbally threatening to Halle," and that "he is a vindictive guy." And a source told TMZ that Aubry called Berry a "fucking bitch" and used the n-word.
Of course, as in all custody battles, there are (at least) two sides to this story, and Aubry's modeling agency released a statement saying that "Gabriel is a caring father who shares custody of Nahla" and "Halle's continuing allegations in the press are untrue and irresponsible." Amid all the he-said-she-said, though, ABC has chosen an odd angle — basically, why does poor Halle Berry always pick the wrong guy? They offer some hearsay from People writer Joey Bartolomeo:
It seems like she has a history of picking the wrong men for herself. Her marriage to David Justice was very troubled. After that marriage broke up, she was damaged by the whole relationship. Then she married Eric Benet, and that seemed to be a great thing for her — she was very happy, he had a daughter, they were raising that daughter together, then they split up and there was talk that he had been unfaithful.
Then there's some speculation from the proverbial shrink-who-does-not-treat-Berry: apparently the star "might be searching in vain for a father figure, not just for Nala but also for herself." Says psychoanalyst Wendy Lee Walsh, "She's going to pick the men who provide the most challenge — the men who can't love, the men who are emotionally absent. These are the quote-unquote perfect mates for her kind of attachment style." Though some psychologists do point to attachment difficulties as a cause of relationship problems, we really have no evidence Berry suffers from these. Apparently, though, all a media outlet needs to diagnose a case of Daddy Issues are an absent father (Berry was raised by a single mom) and a few breakups.
G/O Media may get a commission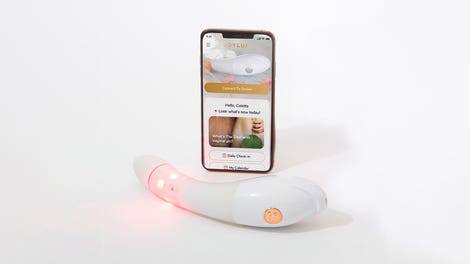 $50 Off
Joylux vFit Gold Device
Of course, male stars who break up with lots of women don't get reputations as sad sacks still dealing with issues from childhood. Jack Nicholson (also raised apart from his dad) is only now, at 73, talking about romantic disappointment, and his many relationships earned him a reputation as, in his words, "Jack the Jumper" — not "poor Jack who can't find a good woman." This is clearly in part a gender issue — since all women are assumed to be looking for Mr. Right, something's obviously Wrong with us if our relationships don't last for ever.
But not every serially monogamous lady gets tarred with the Issues brush. Padma Lakshmi — around Berry's age, also with a history of dating and marrying high-profile men, also with a bitter custody battle — seems to have avoided speculations about her attachment style so far. Does Berry get this treatment because she's been open about dark times in her life, including a suicide attempt? Because her status as one of Hollywood's most visible black actresses makes her subject to racial as well as gender prejudice? Because of the "Oscar curse"? Whatever the case, her fight for custody of Nahla has likely given her enough to worry about — she doesn't need people speculating on her psyche too.
Gabriel Aubry: Another Bad Apple For Halle Berry? [ABC]
Gabriel Aubry: Halle Berry Acting "Irresponsible" In Custody Dispute [Us Weekly]
Halle Berry's Custody Case Turns Ugly [People]
Halle Berry To Fight For Custody Of Daughter [People]
Halle Berry's Baby Daddy Hurled 'N' Word At Her [TMZ]