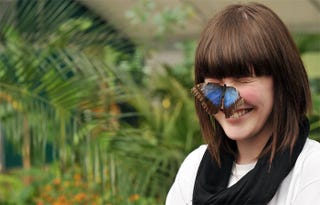 Come one, come all to visit the half male, half female butterfly that hatched two weeks ago during the Sensational Butterflies exhibition at the Natural History Museum in London!
And if you can't make it to London before the exhibit ends in September, don't worry. You can still read about it:
The insect, which has a 10cm wingspan, is almost black on its male side, but the female side is much paler, with clearly visible flecks of blue, red and tortoiseshell.

A closer inspection revealed the insect to have one antenna longer than the other, a single male clasp on its abdomen, and male and female reproductive organs that had fused down the middle.
Because its sex organs are "welded together" the butterfly is infertile, but no matter. In 2008, a half-male, half-female moth was also born at the museum.
And according to the article, "crabs and lobsters can also be gynandromorphs."
Exciting times, indeed.
Half male, half female butterfly steals the show at Natural History Museum [Guardian]