Yesterday, E! News ran an exclusive interview with Jon Gosselin's 22-year-old girlfriend Hailey Glassman, in which she defended her Facebook photos, pot bust, and relationship with Jon; she also accused Kate of playing "the sympathy card." Much more, post-jump.
Hailey said she and Jon are in a monogamous relationship — despite evidence to the contrary, at least on his part — and that this is the first time she's ever been in love. She claims that she's "not the other woman" although she can understand why people would think that, because TLC did not allow the Gosselins to publicly announce the end of their marriage for almost a year.
Hailey explained that she and Jon began dating in May, while Jon was living at her parents house, because he was "sad and bored" and she was, well, just "bored." (Her father, a plastic surgeon, performed Kate's tummy tuck, and for some reason, Jon befriended Hailey's mother.)
Hailey — who auditioned, but was turned down, for The Real World and Bad Girls Club — wanted to do the E! interview because, as she puts it, "there's so many lies and ridiculous stories being circulated. How [the media is] portraying me is not me at all." She's referring to her 2005 arrest for possession of marijuana and several salacious photos (some from her own Facebook page, others sold to tabloids by acquaintances) featuring Hailey partying it up, as well as some girl-on-girl action.
G/O Media may get a commission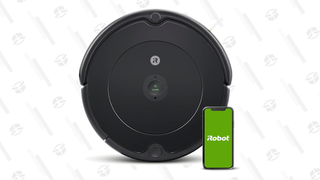 35% Off Black Friday Deal
iRobot Roomba 694 Robot Vacuum
This photo, Hailey says, was taken "totally out of context."




"We had tequila night in my apartment. My roommate had like a little BB gun. I wasn't holding it to her head i was posing with it!"
Of her pot bust she said, "I do not have a criminal record. I took a pretrial diversion and I took a class and it was expunged," adding, "I didn't smoke alone!" That seems to be the case.

In regards to her sexuality and past dating history, Hailey had this to say:
But that's not all E! News had in store. Producers juxtaposed segments with Hailey with interviews with Kate Major (whom the network refers to as "Kate 2.0"). Interestingly, both Hailey and Kate 2.0 described Jon as "a great guy," and said that dealing with the fallout of their respective relationships with him "has been a nightmare." More so for Kate 2.0, who quit her job as a reporter for Star, at Jon's request, and had plans to move in with him. According to Kate 2.0, Jon said he broke up with Hailey but apparently he did not, and she had no desire to be the other other woman.
Additionally, Kate 2.0 maintains how awesome Gosselin is and said that she wishes she "could think of a single thing wrong with [Jon] but I can't." Um we can think of about eight things wrong with him (and none of them are his children).
So what does Hailey think about Jon's fling with Kate 2.0 while they were together? Well, she doesn't. Jon told her it didn't happen and she believes him. Instead, she thinks that Kate 2.0 "just wants her little 15 minutes" and that she is "cuckoo," and that we need to remember that "girls are manipulating and mischievous."
I love Giuliana Rancic's reaction to all of this.

Of her future with Jon, Hailey says she's told Jon "let's not make too future goals [sic], that's just kinda when you write things in stone. It kinda leads to disappointment when it doesn't work out."
That sounds, um, wise?
Well, Hailey, even though you're not the one looking for your "little 15 minutes," you've still earned yourself an animated gif.