Indianapolis Monthly has a very long and very sordid piece about the many financial foibles of Tracy Anderson, celebrity trainer to Gwyneth Paltrow and Madonna.
Here's a short version of Anderson's story:
After gaining weight and getting ridiculed as a ballet dancer, she developed a dance-based workout technique designed to "manipulate your muscular structure." She and her husband Eric opened several gyms in Fishers, Indiana, but quickly went into debt, partly due to Anderson penchant for driving fancy cars but not paying her sewer bills. After filing for bankruptcy and starting yet another gym, she asked Glynn Barber, a married dad who owned a tool-and-die business, to build her a "Hybrid Body Reformer," a variant on a Pilates machine that would both tone muscles and "make you super-tiny." Barber built twelve of the machine and, despite the fact that Anderson didn't pay him, both became romantically involved with her and invested in her business. Over the next several years, Anderson proceeded to bleed him dry of his eight-figure fortune, making him pay for luxuries like a $1,500 a night hotel in London when she visited Madonna, and an apartment in Los Angeles when she decided to relocate there. Though Barber is now broke, the home they shared in Indiana is being foreclosed upon, and one of her gyms has closed without fully reimbursing clients for unused lesson, Anderson apparently continues to train Madonna and Gwyneth Paltrow.
Oddly, an article by Donna Freydkin in today's USA Today makes no mention of Anderson's malfeasance. Freydkin calls Anderson "the woman responsible for Paltrow's attention-grabbing transformation from willowy to wow." And Paltrow (whom Anthony Bourdain called "the one bitch who refuses to eat ham") sounds like a promotional brochure when she gushes,
I had always been dedicated to exercise, but no matter how hard I worked, I never was able to change the things that bothered me. Her method is so rewarding because, yes, you are working hard, but you know you are getting somewhere. I really never thought that at 36, after two children, I could look better than I ever had.
G/O Media may get a commission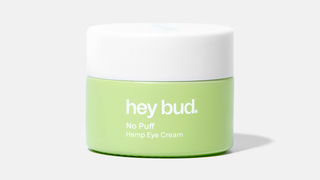 15% off
Hey Bud - No Puff Hemp Eye Cream
How has Anderson gotten away with years of unpaid bills, bankruptcy, and using up a man's fortune, only to wind up a lauded trainer to the stars? We see two equally depressing reasons. One, Anderson embodies the pre-recession ethos of keeping up appearances at all costs. Her expensive car, home, hotel stays, and studio equipment were all part of Anderson's strategy: her associates told Indianapolis Monthly that "she sells herself with charisma and succeeds, time and time again, by giving the impression that she is already successful" — even when she has no money to pay for the things she buys. Though this strategy has resulted in devastating financial fallout for Barber — and for others too quickly taken in by the early 21st centuries buy-now, pay-later mores — it seems to be working for Anderson, at least for now.
The other secret to her success: people, especially actresses, really want to be thin. Anderson "promised that anyone could look like her," says former client Amy Paull. "Anyone could be a size 0 or a size 2." Paull adds that when people hear of Anderson's financial troubles, "the usual comment I hear is, 'It's terrible what she did, but did her workout work? People are so desperate to be thin." Desperate enough, apparently, that they don't care if their trainer has cheated others and may well cheat them. Tracy Anderson: yet another sign of the end-times.
Getting Ripped [Indianapolis Monthly]
Meet the fitness trainer who transformed Gwyneth Paltrow [USA Today]