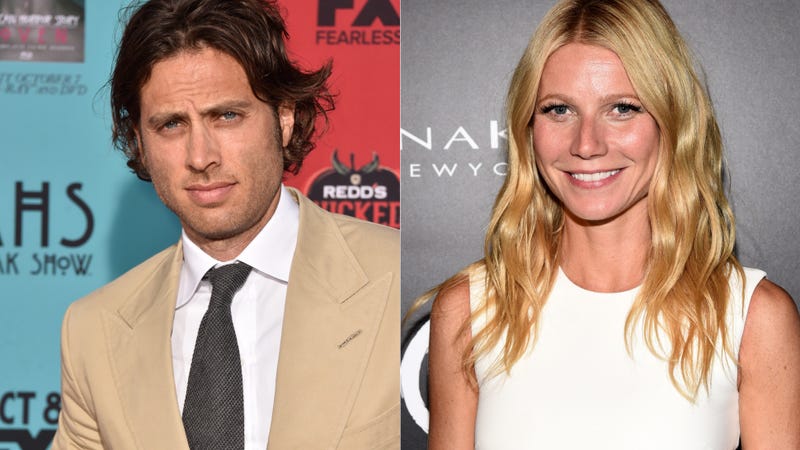 It's been exactly seven months since Gwyneth Paltrow and Chris Martin used the most eye-rollingly absurd phrase "conscious uncoupling" to announce their split. And Paltrow has moved on with a new man—American Horror Story and Glee producer Brad Falchuk.
According to Page Six, Paltrow and Falchuk are "'openly dating, but behind closed doors,' said an insider, who added that entertainment pros know them as a couple. 'They go to private Hollywood parties together.'"
Yes, they are consciously inconspicuously courting candidly. The two apparently hung out over the summer in LA and the Hamptons—and even Utah. Rumor has it, Falchuk even went to London regularly to be with Paltrow. Maybe that AHS cameo really will happen? [Page Six]
---
Brother/Sister Savior Duo from an Alien Race Jaden and Willow Smith performed together during Willow's set at Fader Fort yesterday, and goddammit I love them. I don't even care.
@gweenos and brother @theaquaticstevezissou perform a #throwback classic. #whipmyhair #FADERFORTConverse

A video posted by The FADER (@thefader) on Oct 10, 2014 at 9:09pm PDT
Willow even brought SZA on to perform with her, and we all know how I feel about SZA (I really enjoy her music). [ Bossip]
---
Beyoncé's tour photographer Yosra El-Essawy, responsible for some of the most iconic photos of the diva, passed away of esophageal cancer, diagnosed last year. She was 33. Condolences to her family and friends. [ ONTD]
---
Ryan Reynolds joked that he would name his and Blake Lively's baby "Excalibur Anaconda Reynolds" if it was a girl and "Bruce Jenner" if it's a boy. Yo, but can they please name their baby Excalibur Anaconda Reynolds?! [People]
Ugh, TMZ has obtained a photo of Mama June and her child molester ex boyfriend house hunting together last month. [TMZ]
Jennifer Lawrence's middle finger umbrella is a work of art. Seriously. I want it. The visual of just opening that in someone else's face alone, is wonderful—the thought of performing an entire "Singing in the Rain" number with it is actually what I imagine heaven is like. [Just Jared]
Mila Kunis and Ashton Kutcher can't wait to have the next baby. I hope they name the next one Earp, that way their children will be Wyatt & Earp. Aww. [Contact Music]
Start your day with a fresh cup of regret, and watch this video of Sammy Hagar and Chad Kroeger doing a cover of Led Zeppelin's "Whole Lotta Love." [ONTD]
"Here's a GIF of Benedict Cumberbatch strutting like Beyoncé" [Huffington Post]
Lady Gaga helped a dude propose to his boyfriend onstage at her concert, and then she played a song just for them! [BuzzFeed]
Very important! Dinner, Marry, Kill: Wyatt Earp Edition. Kurt Russel (Tombstone), Kevin Costner (Wyatt Earp), Burt Lancaster (Gunfight at the O.K. Corral)?
Images via Getty.