The latest installment of Gwyneth Paltrow's comeback tour (courtesy of her new film Iron Man) took place last night at a special screening in New York starring an eclectic bunch of bold-faced names with eclectic clothing. There were models (Hana Soukupova, Maggie Rizer, Helena Christensen, Joy Bryant), children of celebrities (Eva Amurri and Jack Robbins, Elettra Rosselini Wiedman), the old guard (Bebe Neuwirth, Diana Ross) and a few randoms (Leelee Sobieski, Kelly Killoren Bensimon). All those and more in the full Good, Bad and the Ugly, after the jump.






The Good:

I'm always a sucker for a picture of a big sister and a little brother, like this one of Eva Amurri and Jack Robbins. Love her skirt. Also: how much do they look like their parents?



G/O Media may get a commission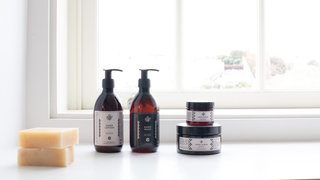 Exfoliate and Hydrate
The Handmade Soap Company
Big yes to the drop-waist on Famke Janssen's dress.



Ok, Hana Soukupova, I get it already: You're a model. You are perfect.



I'll have what Helena Christensen is having. Even if it's safari wear.



Joy Bryant is a dream in her very modern and very sophisticated pants-and-jacket pairing. Love the silhouette. Love the colors. Want the necklace. Now.



I know I should hate Leelee Sobieski's dress, but I can't help but love it.



Maggie Rizer: Keeping it real, playing to her hair.



Gwyneth's dress: See-through or not?




The Bad:

Is anyone else surprised to learn that Tracey Ullman is the Burberry trench-wearing type?



Bebe Neuwirth: When headbands and bad fashion happen to good people.



Carol Alt: When too much satin and bad necklines happen to good people.



Is Diana Ross wearing galoshes? And leggings?



And is Elettra Wiedman wearing them too??



Liv Tyler disappoints with a sad sack of a dress paired with flesh-tone shoes.



Tory Burch: Furthering my belief that no one dresses worse than fashion designers.



Terrence Howard and his son are both dressed as Indiana Jones. Also, is his daughter carrying a clutch? Or a Trapper-Keeper?




The Ugly:

I do believe Kelly Bensimon is wearing wet boots with that most unfortunate dress.
[Images via Getty.]